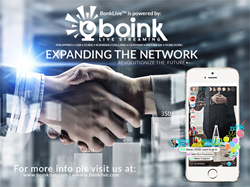 Bonk live for a better life
New York New York (PRWEB) May 29, 2017
Bonk Live Streaming App! Broadcast, Chat, Share, Follow and be a Star. It is a tool for broadcasting live-streaming videos and watching others' videos. The terms of use specify that users be at least 18 or have parental permission to use the tool, but teens and young teens are broadcasting. With Bonk Live users can log in with a phone number, Facebook account, or Instagram account.
Bonk Live. Is a social media platform for broadcasting and advertising both for live commercial play and branding products while watching live streaming videos. Go live, connect with your favorite stars and earn rewards and cash. Broadcast yourself and meet new people with similar interests worldwide. See special offers from major brands and projects. Make money for playing branded commercials while streaming live. Earn money for reading local and international advertisements. Get an ASAP Bonk live debit card with MasterCard facilities when users stream live.
The appeal of live video streaming is clear, some people get famous, and others thrive on the immediate connection and feedback. Inappropriate commenters and sexual content of any nature will be blocked and banned.
Tips and Tricks Users Need To Know About Bonk Live
Whether the broadcaster is a brand new Bonk Live beta broadcaster or a long time beta power-user, there's probably something here some users didn't know about Bonk live.
Let's Start with the basics:
Gold coins can be purchased in packages while viewing any broadcasts or from the Bonk live coin shop at any time.
When Bonk live viewers users want to send gifts, he or she can buy gifts via the gold coin shop on the Bonk live application during any live broadcast.
Virtual Gifts can be turned back into cash and redeemed at 20% of the original Value in cash.
All money can be transferred to Bonk Live users ASAP debit card or used via the MasterCard facility as depicted on the card.
The Bonkified Broadcaster earns Diamonds when they play a commercial or read a jingle or advertisement.
Diamonds are worth $50 USD and can be withdrawn as cash or exchanged for gold coins.
Only Bonkified users can play commercial video, read jingles or advertisements.
When a Bonkified broadcaster plays an ad during a broadcast, the broadcaster receives one diamond for every minute the video commercial plays. No commercial can be longer than 3 minutes.
Bonkified users can also read Jingles and advertisements. When reading an ad or Jingle during a broadcast, the broadcaster receives one diamond worth $50.00.
Balloons reset for each broadcast, however, on the user's profile, the presenter can see the total amount they received by all viewers in that broadcast.
The Diamond totals and coin totals keep accumulating until the broadcaster cash's out. Then the register starts back at zero.
Following people is the best way to find out when they start broadcasting as Bonk live sends every mobile user that is a fan of the broadcaster a notification when the user's show has begun.
Users can pull down on the comments and scroll to see older ones.
The daily leaderboard is updated every day automatically.
Bonk Live broadcasters start off as a Bonnaroo level 10 and continue to level up to Bonnarookie level 20, Bonkeroony level 30, Bonkers level 40, Bonkai level 50, Bonkertronz level 60, Bonkin level 70, and onto the last level becoming Bonkified up to level 80.
When a user becomes Bonkified, the broadcasters advertising Bonk horn will light up on their mobile device. Once the horn lights up the user can play commercial advertising or read ads or jingles.
Users can make flying comments by tapping the megaphone in the text box.
If someone is rude, users can help everyone out by tapping on their name and clicking 'report.' If multiple people tell on them, they get a timeout.
Everyone can get fans. Once a user receives a gift in a broadcast, those people become fans.
After each Bonk Live show Videos are can be saved by the user. The videos can be viewed later on the user's profile after every show. Users can share their videos before, during, or after a broadcast.
Mobile broadcaster and viewer can swipe right during any show to remove the comments and animations or swipe left to bring them back.
Bonk Live users can swipe up and down from one broadcast to another.
The in-app gifts will occasionally change, and new ones will appear. (Be sure to swipe left and right in the virtual gift store.)
The numbers next to people's name are their levels.
The higher a user's level goes up, the broadcaster gets special unique features during their broadcast, and they receive more options to make money and special gifts.
Bonk Live users can tap anywhere on the bottom half of the screen to give Balloons.
Bonk Live users can also hold their finger down on the screen to keep sending balloons and watch the balloons burst in the air with the word Bonk flashing in different colors.
When a user's Top fans show up during a broadcast, they are presented in the upper part of a broadcast and are in order of the top fans being first on their list of people watching them live.
Bonk live is a global application and free to download. The first production will launch in June and will be available to download in all ios or apple play stores and can be downloaded on all mobile devices.