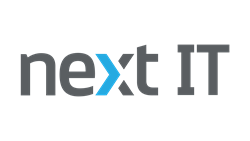 Next IT's experience and technology allows KTSL to offer best-in-class conversational AI solutions to our customers, furthering our ability to meet the needs of today's workplace and help organizations scale through a nuanced approach to automation.
Spokane, Wash., US (PRWEB) May 30, 2017
KTSL, a Platinum BMC Software partner headquartered in the UK and dedicated to providing solutions in and around Business Service Management, announced today a partnership with Next IT, the conversational AI company. The partnership enables KTSL to deliver conversational artificial intelligence (AI) across their IT Helpdesk and Service Management solutions using Next IT's Alme® platform.
KTSL is known for their commitment to driving quantifiable results for enterprise management and IT services. In a similar vein, Next IT has long been recognized for its unique approach to enterprise AI, where business goals, user needs, and outcomes shape the AI implementation from start to finish. The partnership ensures enterprise customers have access to a robust set of AI-powered solutions that are proven to have the right impact on their business.
Notably, Gartner recently revised 2017 IT spending estimates due to the growing adoption of cloud and reduced investment in servers and associated hardware. While CIO's have been relentless in their efforts to deploy budgets more efficiently, enterprise software and IT services remain the two leaders of spending growth in 2017 and 2018 projections. The reallocation of cost savings from data-center systems to spending on IT services promises a new era of workforce productivity for enterprises that tap innovative technologies to automate and scale ITSM operations.
"Our goal is to always deliver solutions that are proven to meet our customers' business and operational objectives," said Rob Marks, KTSL CEO. "Next IT has the experience and technology that allows KTSL to offer best-in-class conversational AI solutions to our customers, furthering our ability to meet the needs of today's workplace and help organizations scale through a nuanced approach to automation."
The technology powered by Next IT's Alme® platform and NLP engines will deliver highly scalable and extensible intelligent assistants that are multi-modal, multi-channel, and multi-lingual to support automation efforts around IT Helpdesk and Service Management. These technologies have been deployed and validated in the largest enterprises in the travel, telecommunications and finance sectors. As a platinum BMC Partner and the longest serving UK partner for BMC, KTSL has successfully delivered over 1,000 projects for 180 different customers. The solutions delivered through this partnership will undoubtedly earn the immediate trust of enterprise customers.
"KTSL is an ideal partner for Next IT, and we're excited to deliver exceptional results to customers all over the globe," said Tracy Malingo, President of Next IT. "KTSL's commitment to helping businesses increase efficiency and productivity is a mission shared by Next IT. The global business environment is more competitive than ever before, but the market leaders will be those that relentlessly drive productivity with innovative technologies. That's why KTSL and Next IT partnered, and that's what we'll deliver."
"Tens of millions of people have grown comfortable using their own words to control services delivered through smart phones, appliances and entertainment units in their homes and cars," explained Dan Miller, lead analyst at Opus Research. "The workplace is next! Investment in technologies that enable conversational control of business processes – like employee onboarding, trouble ticket tracking, supply-chain management and other productivity enhancers – is poised to explode because they provide enterprises a way to leverage existing investment into the age of Intelligent Assistance."
About KTSL
KTSL is in business to help its customers achieve real and lasting value from their investment in IT service and enterprise management tools. We are BMC's longest-serving UK reseller and our continued investment in staff development has been rewarded with BMC Platinum Partner status. KTSL is a trusted long-term advisor to over 180 organisations that span both private and public sectors with specific expertise in Banking, Financial and Professional Services, Manufacturing, Retail, Leisure, Telecommunications, Transport and Utilities, together with Education, Health and Local and Central Government. For more information, visit http://www.KTSL.com
About Next IT
Next IT is the conversational AI company. We provide turnkey language understanding components and customized solutions that propel brands into the intelligence age.
Our customers, including Alaska Airlines, Amtrak, Charter Communications, United States Citizenship and Immigration Services, and the U.S. Army, set the bar for innovation in their markets, and they trust our solutions to resolve the most challenging barriers to exceptional customer and workforce support.
Next IT is headquartered in Spokane, Washington.
Learn more at http://www.nextit.com