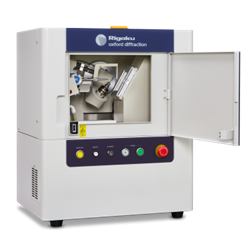 Toronto, ON (PRWEB) May 29, 2017
Rigaku Corporation is pleased to announce its attendance at the 100th Canadian Chemistry Conference and Exhibition (CSC 2017), the conference is being held from May 28 to June 1, 2017 at the Metro Toronto Convention Centre in downtown Toronto. Rigaku Oxford Diffraction (ROD) is representing its diverse lines of chemical and macromolecular crystallography systems at booth 710.
CSC 2017 will showcase science from across Canada and around the world, featuring the latest innovations in research in the traditional sub-disciplines of chemistry. The event will feature plenary, invited and submitted lectures, jointly organized international symposia, poster sessions, panel discussions, and special events.
More information about single crystal diffraction solutions from Rigaku is available at http://www.rigaku-od.com/.
About Rigaku Oxford Diffraction (ROD)
ROD was formed as the global single crystal business unit of Rigaku Corporation after the acquisition of the former Oxford Diffraction organization from Agilent Technologies in 2015. ROD is a leader in the field of single crystal analysis, both in the field of chemical crystallography as well as well as macromolecular crystallography. Formed in 1951, Rigaku Corporation is a leading analytical instrumentation company based out of Tokyo, Japan.
For further information, contact
Michael Nelson
Rigaku Global Marketing Group
tel: +1. 512-225-1796
michael.nelson(at)rigaku.com