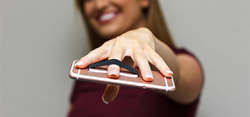 "I have a passion for discovering and launching useful inventions that will enhance the quality of life for humanity." –Mike Watts, GM - LoveHandle
Houston, Texas (PRWEB) May 30, 2017
In many circles a lovehandle is something you want to get rid of through diet and exercise. But not this LoveHandle! Serial Entrepreneur and sixth generation Texan, Mike Watts has caught the eye of Maker Launcher, The Grommet, with a smart phone grip that solves a problem and everyone on the planet can use!
The LoveHandle will be the featured product on June 1, 2017, The Grommet, a popular retail website with 2.5 million subscribers around the globe. The Grommet receives thousands of products for review from makers all over the world, only to accept 3% of them to launch and sell on their site.
LoveHandle, manufactures patented smartphone straps that allow users to more effectively grip their expensive and fragile mobile devices. LoveHandle just began shipping their new smartphone mount system. By combining the enhanced functionality of securely holding a phone with just one finger with the ability to easily mount these powerful devices on any surface. You have a match made in smartphone world!
The Grommet website works something like a combination of "Shark Tank" and Oprah Winfrey's annual "Favorite Things" list with a decided focus on supporting the "maker movement" of independent inventors, designers and crafters. The Grommet vets about 300 products per week with only 3 percent making it online. Some of the notable products featured on the site that went on to become best sellers include Fitbit, GoldieBlox, Sodastream and Otter Box.
The Grommet posts a new product each day at 10 a.m., along with a short marketing video produced by the Boston-based company. The entrepreneurs behind the featured products also participate in an online chat from 10 a.m. to 6 p.m. where they answer questions from shoppers live on the site.
"There are two types of customers: Those that love the LoveHandle and those who haven't tried it yet! says Watts. We are thrilled that The Grommet has chosen our product to share with their fans. We just know they are going to "love" it!
In addition to serving as a product launch engine, The Grommet also acts as a retailer, purchasing the products it features and then selling them directly through its website.
To learn more about LoveHandle go to http://www.lovehandle.com or visit them on
Facebook: http://www.facebook.com/LoveHandletv Twitter: http://www.twitter.com/LoveHandletv or
Instagram: https://www.instagram.com/lovehandletv/?hl=en
Watch the video that got Daymond John's attention https://www.youtube.com/watch?v=t9600Krs2I0&feature=youtu.be