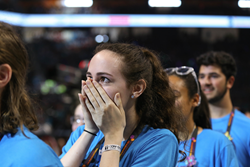 "To keep a child interested in a creative learning program that emphasizes those elements for over five years and several stages of life is a great testimony to Destination Imagination...," said Tracy Magee, Ford STEAM Experience Brand Manager.
CHERRY HILL, N.J. (PRWEB) May 30, 2017
The 17th annual Global Finals, hosted by Destination Imagination (DI) ended Saturday with teams from 17 countries across the globe – including Australia, Canada, China, Mexico, Saudi Arabia and the United States – celebrating creativity through a series of STEAM (science, technology, engineering, arts and math), improvisational and service learning challenges. Students from Texas, China, Colorado, Poland and others earned the first place trophy in their respective categories.
Overcast skies and rainy weather didn't dampen the spirits of the more than 17,000 participants and visitors at the tournament, which took place in Knoxville, Tennessee. Students worked diligently from Wednesday, May 24 until Saturday, May 27 as they polished up their innovative solutions designed around five pillars of celebration, collaboration, cultural exchange, individual decisions and personal growth.
"Every year at Global Finals, we get the opportunity to better prepare students to operate in tomorrow's entrepreneurial environment and fast-changing 21st century with out of the box, creative thinking," said Stephan Turnipseed, executive vice president and chief program officer for Destination Imagination. "Preparing children for a future that cannot be described requires seeing that spark of greatness that lies within each student and fanning it into a flame that can never be extinguished."
In addition to the international tournament, thousands of attendees filled the Knoxville Convention Center to enjoy an action-packed week of festivities at the Global Finals Innovation Expo, which focused on the future of education and creativity. This year's event also hosted a Workforce of the Future panel and networking event, as well as a costume ball where students showed off their creative design, art and engineering skills with handcrafted costumes made from duct tape.
"Each letter of STEAM education is critical to developing our future problem solvers and the next generation of engineers," said Tracy Magee, Ford STEAM Experience Brand Manager. "To keep a child interested in a creative learning program that emphasizes those elements for over five years and several stages of life is a great testimony to Destination Imagination and all the people involved."
The Winning Teams
Notable winners from the 2017 Global Finals include:

Teams from China swept the wins at this year's Global Finals with 20 total teams that placed in the top three of their respective categories, nine of which came in first.
Bernards DI from New Jersey was the only team to receive the Torchbearer special award for the team's thoughtful project that funded a year of schooling for 10 young African women.
Tennessee native, Mt. Pleasant Middle School from Mount Pleasant, won the Renaissance award for moving the appraisers with their compelling storytelling, which portrayed the impact of living with autism and showed a realistic portrayal of the different responses from the community ranging from bullying to sensitive communication.
Junior High School No. 13 in Wroclaw, Poland also walked away with the Renaissance award for creating a beautifully engineered and intricate mechanical, wooden hummingbird with wings that moves as if in-flight.
Team Originality from Shanghai Fengxian High School in China placed first in the engineering category for secondary level, receiving a monetary scholarship from the Project Management Institute (PMI).
The "Goon Platoon" team from Milan High School in Tennessee placed first in the "In It Together" Instant Challenge for their quick, creative and critical thinking shown during the tournament, producing a solution on-site within eight minutes.
To view all of the Global Finals 2017 winners, visit http://www.globalfinals.org/results/.
Special Visitors & Partners
Memorable visitors included Knox County Mayor Tim Burchett, CW's lead actor Vincent Rodriguez III from the new comedy "Crazy Ex-Girlfriend," award-winning songwriters and performers Levi Kreis and Drew Gasparini, Young Hearts cover band from Chattanooga, Tennessee, and the more than 580 event volunteers.
Another visitor at this year's Global Finals was former NASA astronaut Dorothy "Dottie" Metcalf-Lindenburger. She said, "For the teacher in me, it's refreshing to see over 8,000 students gather in one place where they can experiment and learn from doing, which is more like the real world rather than a laundry list of things to memorize. For the astronaut and geologist in me, it's inspiring to be part of an environment that encourages students to dream big, explore and reach for the skies."
To continue providing students with an invaluable education in 21st century learning and career readiness, Global Finals featured hands-on activities from its esteemed sponsors and exhibitors including Ford STEAM Experience, NASA, Space Camp©, Oracle Academy, 3M, CASIS and PCG Education.
Student Spotlight Stories
2017 Graduate of the Year
The 2017 Graduate of the Year is Colorado-based high school senior, Zachary McCrary, valedictorian of Calhan High School. Zachary has been involved in DI for eight years and strongly believes the program pushed him to stretch the boundaries of how he thinks and creates. Zachary will be attending Carleton College, a liberal arts college in the historic town of Northfield, Minnesota, in the fall where he plans to study anthropology, english, cinema and the classics.
Michigan's All-Girls Engineering Team, "The Twisted Sisters"
DI continues to draw and inspire a growing number of female participants among both high school and university teams. This year, Michigan-based Isabella and Iliana Cosme-Brooks from Holt Junior and Senior High School on the outskirts of Detroit received Destination Imagination's partial scholarship to participate in the engineering challenge, where they successfully created a freestanding structure to hold a total of 480 pounds. Because the duo was unable to physically move the weights, they created a device made with wheels, wood, power drill and pulleys to successfully lift, move and place the weights onto the designated structure.
International Growth: "The Peace Team" from Israel
A first time for Israel, six students from Albukhare Comprehensive School participated in this year's Global Finals combining their different strengths for the scientific challenge, where they built a telescope to decipher a hidden code. The team was supported by their teacher, Noa Lahav, who helped them reach Global Finals. The team learned about DI from the owners of robotics company Meccano, Moshe Lahav and Nira Krumholtz, who encouraged the students to participate after learning about the program during their travels to China. A momentous occasion for the country, the mayor of Arraba, Ali Asla, accompanied the students to witness their accomplishments.
Global Finals is the culminating event of the season for DI, an experiential learning company that prepares students for the ever-evolving future through the course of the school year with hands-on learning and creative thinking. Each year, more than 150,000 students from over 30 countries, ranging from kindergarten to university, participate in the nearly year-long challenge program with hopes of advancing to Global Finals, known as the world's largest celebration of student creativity. DI continues to expand and grow each year, adding new activities and features including the new Global Finals 2017 mobile app, improved workshops focused on music, dancing, improv and other skill sets, and innovation labs.
In 2018, Global Finals will return to Knoxville, Tennessee, from May 23-26, for another year of creativity, curiosity and collaboration.
About Destination Imagination
Destination Imagination, Inc. is a 501(c)(3) volunteer-led non-profit organization whose purpose is to inspire and equip students to become the next generation of innovators and leaders. The organization is a leader in project-based learning experiences, where students work together in teams to solve open-ended STEAM (science, technology, engineering, arts and mathematics) and service learning Challenges and then present their solutions at tournaments. Founded in 1982, Destination Imagination has impacted more than 1.5 million students.
To learn more, please visit http://destinationimagination.org.
###