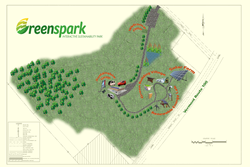 Too few people outside the world of sustainability insiders are aware of the green tech improvements of the recent decades. We want to help bridge this gap.
Waterbury, Vermont (PRWEB) May 31, 2017
GreenSpark Interactive Sustainability Park launches its crowdfunding campaign on Kickstarter. The campaign aims to fund the completion of America's first Sustainability park - a unique place for visitors of all ages to experience Renewable Energy, Green Building and Sustainable Transportation exhibits, all set in a park-like setting in bucolic Waterbury Vermont. People can support this initiative by visiting https://www.kickstarter.com/projects/nycalex/greenspark-americas-first-interactive-sustainabili/.
GreenSpark designed exciting rewards for the campaign backers, whether local to the region or based elsewhere in the country. These rewards include in-depth founder-led tours of the park, rides in the unique vehicles from the Sustainable Garage, and even a lifetime free admission to GreenSpark. More distant backers can support a school trip to GreenSpark and get a personal thank you note from a student who benefited from their pledge.
In order to fulfill its mission of inspiring local and global communities to adapt current green technologies through interactive hands-on experiences, GreenSpark has acquired land, received all the necessary state and town permits, and has already built and bought multiple Green Building, Renewable Energy, and Sustainable Transportation exhibits. GreenSpark is aiming to open mid to late summer of 2017.
The story of GreenSpark begins back in 2010/2011 when its founders left behind their busy NYC lives and embarked on a year long journey across the country to learn more and personally experience anything and everything that has to do with sustainable living. By the end of that year long trip they realized that they've seen so much that they had to share it with the others. And the idea of GreenSpark was born.
Alex Chernomazov, GreenSpark's co-founder, explains: "In the recent decades we've seen exponential improvements in all aspects of green technologies - transportation, energy, construction. Yet relatively few people outside the world of sustainability insiders are fully aware of all this abundance. We want to do our best to bridge this gap."
About GreenSpark:
GreenSpark is a sustainability focused startup based in Central Vermont. Its founders, Alex Chernomazov and Ella Malamud combine 25+ years of technology and education experience with their passion for sustainability to bring to life America's first Interactive Sustainability Park.
Media Contact:
Alex Chernomazov, media(at)GreenSparkVT(dot)com
Press Kit:
http://www.GreenSparkVT.com/kickstarter/press-kit
###