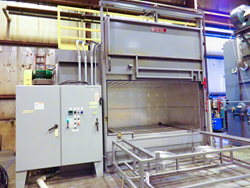 East Troy, WI (PRWEB) May 31, 2017
Wisconsin Oven Corporation shipped an electrically heated batch core forming oven to a leader in the composites industry. This composite curing oven will be used for their patented process of forming honeycomb material for aircraft engines.
The work chamber is 10'0" W x 6'0" L x 5'0" H and the maximum temperature rating is 800°F. The walls and ceiling feature a "CAN" style construction and includes 6" of 6# density. Based on a nine (9) point profile test, the temperature uniformity of this industrial oven is ±10°F at 550° and 685°.
"Based on the success of previous projects, this customer trusts Wisconsin Oven for their equipment needs. This oven will continue to provide efficient and consistent results for the customer."- Kelly LeBard of Hartley Corporation, Sales Representative
Unique features of this composite curing oven include:

22,000 CFM @ 20 HP recirculation blower
198 kW heat input
Meets CE requirements
Vertical lift door
Temperature Uniformity of ±10°F at 550° and 685°
CAN construction
This batch core forming oven was fully factory tested and adjusted prior to shipment from our facility. All safety interlocks were checked for proper operation and the equipment was operated at the normal and maximum operating temperatures. An extensive quality assurance check list was completed to ensure the equipment met all Wisconsin Oven quality standards. This equipment is backed by Wisconsin Oven's Exclusive and Unprecedented 3-Year WOW™ warranty.
About Wisconsin Oven
Wisconsin Oven Corporation has been designing, engineering, and manufacturing industrial ovens and other heating equipment since 1973. Their custom and standard industrial ovens are used for a multitude of applications including heat treating, finishing, drying, and curing. Many of the industries they serve require specific temperature uniformity and equipment performance documentation. Their experienced design team is able to meet even the most stringent standards for their customers' equipment. Wisconsin Oven realizes that the success of the company depends on their Championship team of employees, which is why they have developed a company culture that recognizes and rewards employees. The goal at Wisconsin Oven is to outperform competition and provide customers with outstanding products and service.
Wisconsin Oven is owned by Thermal Product Solutions ("TPS"), a leading American manufacturer of industrial ovens, furnaces, pharmaceutical sterilizers, laboratory ovens, environmental temperature chambers, and stability test chambers. TPS provides thermal processing and test solutions for a range of industries. TPS brands include Baker Furnace, Blue M, Gruenberg, Tenney, Lindberg, Lunaire, MPH, and Wisconsin Oven. For more information on equipment solutions from TPS visit the website at http://www.thermalproductsolutions.com. #10633A