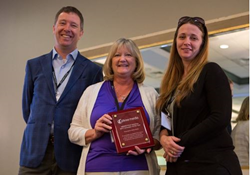 Bloomington, MN (PRWEB) May 31, 2017
At the recent iConnectSolutions user conference, NEWSCYCLE Solutions selected Calkins Media as the winner of its 2017 Innovator of the Year Award. The award was presented to Laura Lucisano and Jenny McGuire on behalf of the Calkins Media Group, Philly Team.
The annual Innovator of the Year Awards honor a media company that is successfully using NEWSCYCLE software to create innovative and impactful programs making a measurable difference in growth and new digital revenues.
Using the broadcast features for booking and scheduling orders in NEWSCYCLE Advertising, The Calkins Philly Team developed a digital television channel for the group's Bucks County, Pennsylvania, audience with high-quality hyperlocal news, sports, lifestyle, entertainment programming and local advertising. Most of the content is produced exclusively by Calkins Media staff. The channel is accessed through the Courier Times website via Roku, Amazon Fire TV, and Apple TV apps, or the Courier Times TV Everywhere app for iOS and Android.
"Innovation isn't something we say we're doing, it's the driving force behind the products and services we build," said Jake Volcsko, Director of Digital Media and Marketing at Calkins Media. "We have successfully sold commercial spots into the stream for local businesses. Traffic and engagement time is increasing on the channel; our audience is watching more frequently and for longer viewing times. The project also brings a more collaborative and creative culture within our organization. We now have a full, 24/7 schedule on our website buckscountycouriertimes.com. With this success, we plan to launch similar channels for our other newspapers."
"Calkins Media truly exemplifies what we have been calling 'Digital Platformation' as a key to revenue growth for news media companies," said Peter Marsh, VP of Marketing at NEWSCYCLE Solutions. "Time spent with over-the-top devices is projected to be 2 hours and 42 minutes a day per person by 2020. When it comes to average daily news consumption, mobile and OTT are growing faster than any other channel, and the Philly Team is a worthy Innovator of the Year thanks to these innovative broadcast efforts."
About Calkins Media
Established in 1937, Calkins Media Incorporated brands today include daily newspapers, video operations and digital sites in Pennsylvania and New Jersey. Corporate and digital headquarters are in Bucks County, PA.
About NEWSCYCLE Solutions
NEWSCYCLE develops and delivers software technology that empowers the global news media industry. Our editorial, advertising, circulation and mobile solutions enable publishers to drive profitability, accelerate digital business models and optimize core print operations. We help our clients create stronger, better-informed communities while safeguarding the integrity of news, advertising and customer information. NEWSCYCLE is a trusted partner serving over 1,200 media companies with 3,000 properties producing more than 8,000 titles in 30 countries. Our company is headquartered in Bloomington, MN and has U.S. offices in Florida, Michigan and Utah; with international offices in Denmark, Germany, Malaysia, Australia, Sweden, Norway, Canada and the United Kingdom. Please visit newscycle.com for more information or write to us at info(at)newscycle.com.
Media Contact:
Lisa Speth
NEWSCYCLE Solutions
Marketing Communications Manager
lisa.speth(at)newscycle.com