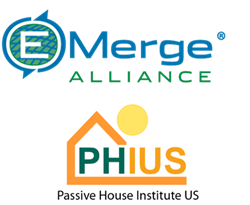 San Ramon, CA (PRWEB) June 05, 2017
The EMerge Alliance and Passive House Alliance US (PHIUS) jointly announced a cooperative effort to create an integrated active electrical power standard to enhance existing PHIUS building standards. A single technical standards group, co-chaired and comprised of members of both organizations, is being formed to develop the standard. The formal launch of the shared effort will commence in a webinar on June 8, 2017. The webinar will include a review of the new group's mission, charter, and a call-to-action for volunteer membership in the group. The joint committee is expected to become active in June this year.
PHIUS, in earlier cooperation with Building Science Corporation, under a U.S. DOE Building America Grant, developed a passive building standard, PHIUS+ 2015 Passive Building Standard – North America, which was released in March of 2015. The existing standard accounts for the broad range of climate conditions, market conditions, and other variables in North American climate zones. Although ideal as a basis for Net Zero & Net Positive designed buildings, it doesn't currently cover active electrical systems in such buildings. PHIUS co-founder and Executive Director Katrin Klingenberg comments, "While we believe our standard is ideal to meet today's economic and ecological market demands, we want to take it to the next level and provide active electrical standards to complete the journey to net Zero/Positive building construction. We anticipate, with EMerge's experience and expertise in power system standards, we will get there."
EMerge Alliance President and co-founder Brian Patterson remarked, "there couldn't be a better way to develop electrical standards for Passive House construction than to work directly with the creators of their standard. With our history of developing hybrid AC/DC power system application standards that maximize the positive impact of distributed renewable energy resources, this joint effort will be unprecedented in bringing the best of both active and passive building design elements to bear on the task." The EMerge Alliance is active in creating technical application standards in building and campus power systems, from those used in the data centers that power super computers to ones that power the basic needs in single huts in the under-served developing economies of the world. The focus of the Alliance has been on the integration of on-site renewables in an increasingly digital device world, hence its motivation for a greater integrated use of direct current (DC) electricity. The Alliance is the only application standards development group working on advancing the use of DC power to compliment traditional alternating current (AC) electricity in residential and commercial buildings.
Like all EMerge Alliance standards, this new PHIUS initiative will include the hybrid use of both AC and DC power by defining interfaces with existing AC power systems at various upstream and downstream levels, with the goal of providing plug-and-play convenience for homes and commercial buildings including faster electrical vehicle charging, and direct support of the expanding use of USB, wireless charging and other low voltage DC power distribution means that simplify the convenient and efficient use of personal electronics as well as 'Smart Home and Buildings' automation equipment. The goal in this case will be to provide the guidance needed to reach 'Net Zero & Net Positive Energy' use in Passive House designed and constructed buildings.
Membership in both alliances, for participation in this and their other standards initiatives, is open on a non-discriminatory basis to all organizations and individuals with a technical or commercial interest in their respective fields. Current members of both associations include stakeholders from the technical, design, manufacturing, academic and regulatory communities.
About the EMerge Alliance
The EMerge Alliance is a non-profit, 501(c)(6) open industry association leading the rapid adoption of safe hybrid AC/DC power distribution through the development of EMerge Alliance application standards. These innovative vanguard standards integrate interior and exterior infrastructures, power, controls and devices in a common microgrid platform to facilitate the hybrid use of AC and DC power throughout buildings and campuses for unprecedented design and space flexibility, greater energy efficiency and improved resiliency and sustainability. For a membership application and other online information, please visit http://www.EMergeAlliance.org.
About Passive House Institute US
PHIUS is a 501(c)(3) organization committed to making high-performance passive building the mainstream market standard. PHIUS is transforming the building sector by developing and promoting North American specific standards, practices, and certifications for buildings, professionals, and products to create structures that are durable, comfortable, healthy, and super energy efficient. Founded in 2003, PHIUS has trained over 2,000 architects, engineers, energy consultants, energy raters, and builders in the passive building standard. The organization is the leading passive building research and information provider in North America. Through its Passive House Alliance US (PHAUS) program, a membership-based organization with over 800 members across 18 local chapters and dozens of corporate sponsors, PHIUS is building a robust national network of passive building communities across North America. Learn more at http://www.phius.org.
Contact:
Beth Murphy for EMerge Alliance
Program and Membership Manager
(717) 612-2863
bmurphy(at)EMergeAlliance(dot)org
Meredith Marsh for PHIUS
Communications Manager, PHIUS
(312) 561-4588
meredith(at)passivehouse(dot)us
###