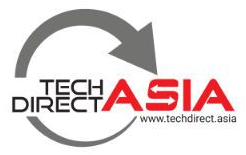 Singapore, Singapore (PRWEB) May 30, 2017
AltoStratos Group ("ATS"), a Sydney-based Pan-Asian omnichannel adaptive routes-to-market solutions partner of global IT brands, has launched its B2B IT e-commerce portal (TechDirect.Asia) and sourcing portal (TechSource.Asia) in Asia, starting with the Singapore market.
ATS, through its subsidiaries in the region, have been representing leading IT brands in Asia for more than 30 years. Established in 1983, ATS's subsidiaries play multiple roles in both the online and offline IT channel routes-to-market supply chain. These include as distributor; value-added-reseller (VAR); system integrator; repair and customer service centre; fulfilment centre; warehousing and logistics partner across Asia.
ABOUT TECHDIRECT.ASIA
The launch of TechDirect.Asia further broadens ATS's offering to its global IT customers, by enhancing the ability of global IT brands to reach their Enterprise and Small and Midsized Business ("SMB") customers in Asia via a one-stop e-commerce channel that complements the brands' offline sales channel strategies and online presence.
Recognising that business and corporate buyers have different needs compared to consumers, TechDirect.Asia helps buyers get complete visibility across solutions, along with a holistic, unified view of the path-to-purchase.
Sharon Chin, Chief Marketing Officer of Altostratos Group, said, "By providing the full product catalogue, specifications, pricing and in-country stock availability for each brand, TechDirect.Asia enables B2B buyers to reduce the amount of time spent online researching for products and solutions.
In addition, corporate buyers on TechDirect.Asia have access to live online pre-sales technical support, detailed product comparison, product customisation, online payment, on-demand fulfilment, order tracking, as well as after-sales service and support."
Khoo Hung Chuan, Cluster GM Singapore and Malaysia, Lenovo, said: "We are proud to partner TechDirect.Asia to deliver a unique and optimized B2B online buying experience for our Enterprise and SMB customers."
ABOUT TECHSOURCE.ASIA
TechSource.Asia is a global one-stop IT products, parts, consumables and services sourcing platform owned and operated by the ATS.
TechSource.Asia sources, invites and hosts pre-qualified global and local suppliers of IT products, parts, consumables and services on its online platform.
Buyers can now source globally for products, parts, consumables and services using one single tool without having to search and contact multiple online and offline sources.
Some of the key benefits of TechSource.Asia for IT buyers include:

ability define specifications, including brand, quantity, part number, technical specifications, power rating, type of service, delivery options and fulfilment time frames;
source for End-of-Life (EOL) products and parts thereby allowing buyers to achieve greater return on their IT investments;
receive instant notification of the lowest quotations thereby allowing buyers to efficiently leverage their purchasing power to achieve significant savings for their business;
pay in their preferred currency.
Further, as fulfilment, payment, warranty and returns are handled by ATS, buyers have the assurance that their online transactions are secured.
ATS will be concurrently rolling out TechDirect.Asia and TechSource.Asia in Malaysia, Thailand, Indonesia and Philippines in the next few months, followed by other Asian cities in the 2nd half of 2017.
ABOUT ALTOSTRATOS GROUP
The AltoStratos Group is a Pan-Asian Omni-Channel Adaptive Routes-to-Market solutions partner of global IT brands.
AltoStratos provides customised routes-to-market technologies, solutions, sales channels, local knowledge and supply chain to simplify and expand market access for global brands.
Headquartered in Sydney, Australia, AltoStratos' regional hubs are located in China, Thailand, Malaysia, Singapore and Australia. These strategically located regional offices enable AltoStratos to extend its geographical area of operations from North-Asia, through Indochina, South-East Asia, and into Australasia. AltoStratos' significant PanAsian footprint – which combines local knowledge with a corporate presence, enables AltoStratos to offer customers a complete solution to transact and conduct business in these fast-growing markets.
AltoStratos serves as a cross-functional, strategic, Pan-Asian partner offering an ecosystem of services, comprising, Adaptive Supply Chain services, Routes-to-Market services and Omni-Channel solutions.
AltoStratos' services offering optimizes organizational capacity, adapts to changing markets, improves predictability, and delivers comprehensive value to the customer by enabling global brands to enlarge their market share in the Business-to-Business (B2B) / Business-to-Consumer (B2C) segments as well as the Online / Offline channels in Asia.
Contact Details:
Sharon Chin,
CMO
sharon.chin(at)altostratos(dot)com
T: +65 6816 5656