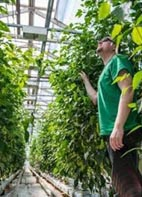 High Yield Agriculture for Rural Yucatan Mexico
Houston, Texas (PRWEB) May 31, 2017
Monarca is sharply forced on food, energy, water and jobs, and the Yucatan peninsula of Mexico is location for phase one of their large high yield greenhouse project.
Monarca, a Mexico City company, has contracted with Turf Feeding Systems to design, build and manage a large 33,000 hectare agriculture project to produce food and renewable energy biofuel in the Yucatan region of Mexico. Phase one of the Monarca project is a large hydroponic greenhouse complex that will produce high value vegetables and fruits for export as well as develop high yield Jatropha plants for their phase two 33,000 hectare Jatropha plantation.
Jack Katz, CEO of Monarca states, "We are moving ahead quickly with phase one of our master project by creatingthe Monarca Agriculture and Technology Center. The Center will include over 60 hectares of hydroponic greenhouses as well as a high level laboratory and career and teaching center for our team and local growers. This will be the cornerstone of the Monarca project and follow our mission - To produce the highest quality fruit and vegetables for less cost in rural Yucatan Mexico, while raising the local economy".
Michael Chaplinsky, President of Turf Feeding Systems, explain,"We will build massive (120 acres) areaof high yield hydroponic greenhouses and implement our special fertigation systems with a proprietary organic nutrient program developed by Dr. Bill Nolde, our agronomist. Dr. Nolde's program is unlike any other hydroponic or agronomic program using organic carbon, bichar and special amino acids to produce quality and production unmatched in any area of agriculture".
Chaplinsky continues,"We will grow high value vegetables and fruit that can be exported with a great margin for the business side of the center, however we will also develop and cultivate high yield Jatropha for the plantation. Then we will implement all our technologies into 33,000 hectares of for hydroponic cultivation of high yield Jatropha".
Chaplisky concludes, "The scope of greenhouses with fertigation is not our only values. Jack Kats selected the Yucatan because it has great values with abundant land, great sun light, abundant water and great people. We look at the people of rural Yucatan as our future team members. We will train and educate locals to become part of our team".
"Our goal is to raise the livelihood and the economy of rural Yucatan and start and their economic engine. Once that starts, it will create an economic magnet and pull people into the engine and raise the local economy. It will pull people back from the US, which is better than building a border wall", Chaplinsky explains.
Bio:
Michael Chaplinsky is the President of Turf Feeding Systems, a world leading company in fertigation, headquartered in Houston, Texas. Mr. Chaplinsky has developed new technologies integrating fertigation, new irrigation technologies and special soil treatments to reduce irrigation water up to 50%, reduce fertilizer and chemicals 60% while increasing crop production as much as 50%. Mr. Chaplinsky works and speaks at many agriculture conferences worldwide. He is a world expert in Soil Restoration, Water Efficiency and Sodium Issues in water and soil. He developed a new sustainable agriculture program that restores poor soil and produces higher crop production, while reducing water, fertilizer and chemicals. He states, "The world population has passed 7 billion and will pass 9 billion by 2050; however tillable productive farmland in the world is diminishing. My mission is to restore damaged farmland not bulldoze native forests to increase farmland.
Contact - mc(at)turffeeding(dot)com