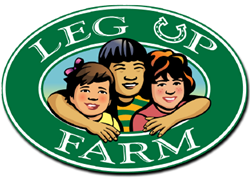 Penn National Golf Course Community is set to be the future home of Leg Up Farms.
Fayetteville, PA (PRWEB) May 30, 2017
Franklin County Visitors Bureau's tourism partner Penn National Golf Course Community is set to be the future home of Leg Up Farms, announced by Leg Up Farm President and CEO Louis Castriota, Jr. White Rock, Inc., developers of Penn National Golf Course and Golf Course Community, will contribute a 15-acre site along Mont Alto Road north and west of the new Homestead neighborhood. The facility will feature a barn-like architectural style and include classrooms and therapy rooms, a 10,000-sq. ft. indoor riding center and outdoor areas for pasturing the horses, native gardens, a therapeutic Koi pond, playground, and walking trails.
The Leg Up Farms facility will support the therapy and educational needs of Franklin County's special needs children and their families. LUF is a non-profit therapy center for children with special needs from birth to age 21. It is the only facility in the nation to offer physical, occupational, aquatic and speech therapy, therapeutic horseback riding, counseling, nutritional services and educational programing under one roof. The original location is located in Mt. Wolf, PA in York County. The Franklin County location will be the second.
In addition, it is anticipated that Leg Up Farmers Market, a full-service, natural foods grocery store that supports the Leg Up Farm, will eventually be located in Penn National's proposed Town Center. Leg Up Farmers Market features a coffee/juice bar, delicious brick oven pizza, fresh made soups & sandwiches and a variety of prepared items, a bakery and an in-house butcher. The market focuses on natural and organic wherever possible: no added colors, chemicals, additives, hormones, or other artificial ingredients and locally sourced.
The Franklin County Visitors Bureau invites all to explore Franklin County PA and enjoy the trails of history, arts and architecture, recreation, natural beauty, fresh foods and the warm hospitality of communities like Chambersburg, Greencastle, Mercersburg, Shippensburg, and Waynesboro. Franklin County PA is located just north of the Mason Dixon Line and is an easy drive to Washington DC, Philadelphia, and Pittsburgh. Discover more.... plan a visit soon at [ExploreFranklinCountyPA.com or by contacting 866.646.8060.