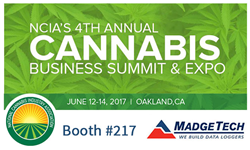 Warner, New Hampshire (PRWEB) May 30, 2017
Founded in 2010, the National Cannabis Industry Association (NCIA) strives to promote the growth of responsible and legitimate cannabis businesses. Serving as the industry's only national trade association, NCIA works to ensure the growing sector is professionally and fairly represented at the national level.
Packed with more than 30 educational sessions, the Cannabis Business Summit & Expo is expected to draw in an estimated 4,500 attendees. MadgeTech will be among the hundreds of vendors on the exhibition floor and will be demonstrating how the Element series of data loggers can help growers save time and money, while increasing their yield.
Making its debut to the cannabis industry is the Element 4-20 wireless current data logger. Compatible with a variety of probes and sensors, this versatile logger can continuously monitor critical variables such as soil moisture and temperature, pH and light intensity to allow growers to achieve optimum results.
A staple in every grow room, the Element HT wireless data logger provides cultivators with a simple and convenient way to constantly monitor ambient temperature and relative humidity levels. Real-time data transmission and notifications allow growers to react and control the environmental conditions to accommodate different growth cycles, while preventing mold and disease.
For growers that incorporate carbon dioxide to stimulate growth, MadgeTech also offers the Element CO₂ wireless data logger. This logger is the all-in-one solution allowing growers to obtain a complete profile of grow conditions by not only tracking CO₂ levels, but temperature and relative humidity as well!
To monitor grow conditions 24/7, the entire line of Element wireless data loggers is compatible with MadgeTech Cloud Services. With this platform, growers can access real-time data from their network of wireless data loggers across not one, but multiple facilities. This gives growers the independence to check on their crop right from the palm of their hand, anywhere with wi-fi connection.
The Element HT and CO₂ will be available for purchase at MadgeTech booth #217. Interested in the new Element 4-20? MadgeTech will be accepting preorders at the expo. Don't waste time, stop by to learn more about MadgeTech's industry-leading data loggers, affordable solutions and user-friendly software.
For more information about MadgeTech data loggers, please call MadgeTech at (603) 456-2011 or contact here.