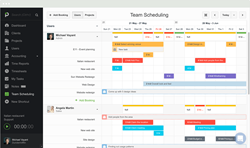 Oradea, Romania (PRWEB) May 31, 2017
Paymo the modern project management platform designed for teams in the professional services industry, today announced the release of a major enhancement to its project planning and scheduling capability, allowing project managers to cut down time on resource scheduling and simplifying the whole process with automation. Starting today services organisations can more easily plan and make adjustments to deliver on time and on schedule.
"Managing and planning time effectively for teams can be very challenging." said Jan Lukacs, CEO and co-founder of Paymo. "To stay ahead of competition and be profitable, successful teams need to be in full control of their time. Planning and managing resources is key to their success. The need to allocate professionals to work on multiple projects at any given time can get very frustrating and usually involves a lot of manual work, separate tools and lots of coordination and communication. We thought long about solving this problem, and with the new features we announced today, we're giving professional services firms the ability to plan end execute much better with less effort - all within the same software platform."
Introducing Smart Resource Management
Most organisations still rely on a suite of tools to plan projects, schedule, track time and build reports. This fragmented process makes project managers and planners struggle by juggling different tools that usually don't integrate well with each other. Paymo provides an end-to-end solution to manage projects through their entire lifecycle by integrating automatic scheduling, planning, time tracking and reporting.
The new capabilities announced today address critical stages of resource management by automatically suggesting a team schedule based on existing planning data. Moving and managing resources at project level becomes frictionless providing a real-time view of how time is planned throughout the organisation on an easy to understand visual timeline.
"In pretty much every scenario, resource scheduling is done manually by managers who rely a lot on their experience or guesswork based on calendars, project plans, or spreadsheets. It's a lot of manual work and not very precise." continued Lukacs. "Building on top of available data we plan to further improve the process with machine learning that will offer planners even better and more precise suggestions in the future."
Early Customers Report Improved Results
Paymo invited select customers to explore the new resource scheduling capabilities in advance of the official release. Customers reported improved results in terms of resource planning and project management processes.
"We're finding the scheduling functionality brilliant. As a business intelligence and data analytics consultancy we have a dispersed workforce covering the UK, USA and South Africa," said Scott Duthie, Senior BI Consultant at Pomerol Partners. "The new scheduling tool slots in alongside the project management platform perfectly. Consultants update their forward looking scheduling constantly as agile projects progress. This gives our project managers a 'live' view and has greatly improved our resource planning."
Availability
For more information about Paymo's new Resource Management capabilities, visit: https://www.paymoapp.com/resource-scheduling-software/