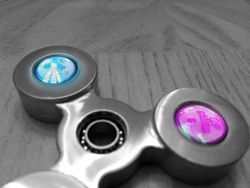 Antzy Top takes the spinner concept to the next level with its superb quality, unmatched durability, and it also comes with removable LED lights.
Germantown, MD (PRWEB) May 30, 2017
After raising more than $31,000 on Kickstarter, more than three-times its original campaign goal, the anti-stress Antzy Top gadget will continue to be available at a discounted crowdfunding price on Indiegogo InDemand.
"Along with creating an anti-stress gadget to help people deal with stress wherever they are, I also wanted to bring a fidget toy to the market that was made of superior quality and wouldn't break the bank for buyers," said Dmitriy Advolodkin, a software automation engineer and creator of Antzy Top. "Other spinners and fidget toys are loud, made of inferior quality and are easily broken. Antzy Top takes the spinner concept to the next level with its superb quality, unmatched durability, and it also comes with removable LED lights."
Built with top-grade stainless steel for superior quality and unmatched durability, Antzy Top is also completely silent and won't disturb other people when being used in a work-setting – which makes it unlike other spinners and fidget toys on the market today. Also, due to its carefully-crafted design and top-of-the-line Steel R188 bearings, Antzy Top can spin for more than five minutes.
The innovative gadget also includes removable LED lights for an amazing night time effect.
"Since it's quiet, Antzy Top is great for any classroom setting, at work, where it can help you to destress while keeping you focused on your long and tedious tasks," Advolodkin said.
Antzy Top may also help students study better. A recent story in The Atlantic cited one study where sixth-graders who used stress balls were less distracted in class, and students who were kinesthetic learners tended to use the stress balls more and get more of an attention benefit from them. The article also noted another study found that stress balls helped relieve patients' anxiety during surgery.
Advolodkin adds that people who tend to suffer more with stress and anxiety, along with individuals who have attention-deficit/hyperactivity disorder (ADHD), attention-deficit disorder (ADD) and obsessive-compulsive disorder (OCD), could benefit from the anti-stress toy, as well.
According to a scientific study published in The Journal of Abnormal Child Psychology, Dr. Dustin Sarver and colleagues discovered that hyperactive movements associated with people suffering from ADHD can help them focus more and learn better.
"Fidgeting is a way that many of us relieve stress and anxiety – allowing us to release excess energy," he said. "Using Antzy Top helps to relieve this energy, while keeping you focused on your task at hand. Simply put, Antzy Top is hands-down the best spinner on the market."
For more information and to purchase Antzy Top at reduced early-bird prices only available during crowdfunding, visit the Antzy Top Campaign Page on Indiegogo InDemand.
About Antzy Top
The anti-stress Antzy Top device was created by Dmitriy Advolodkin, a software automation engineer from Germantown, Maryland. Originally from the country of Uzbekistan, Advolodkin has designed and produced several products to help solve common problems since his arrival in the United States. Previous products include the DT Smart Putter, an electric heated golf vest and a solar-power attachment for golf carts. For more information about Antzy Top, visit the product's campaign page on Indiegogo. For more information on these other products, visit https://dtouchgolf.com/.