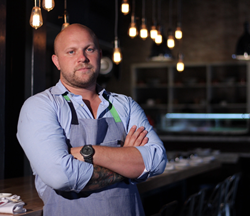 "This is an exciting and challenging collaboration for me," says Ford. "I'll be cooking for people who've been given access to some amazing chefs and experiences through the Cooper's Hawk wine club. I'm honored to now be part of that family."
Chicago, Illinois (PRWEB) May 31, 2017
Cooper's Hawk Winery & Restaurants, a lifestyle dining brand centered around wine, announces today their latest collaboration: a four course dinner and wine event with Top Chef 2016 Winner Jeremy Ford. The event, being held at the Cooper's Hawk Winery & Restaurant in Orlando is part of an on-going series called "Friends of Cooper's Hawk", which partners with chefs and winemakers for exclusive food and wine experiences.
Cooper's Hawk Founder & CEO, Tim McEnery, is thrilled to bring Jeremy's talent to Cooper's Hawk wine club members, as it signifies his commitment to create experiential moments around food and wine. The collaborative foundation of the Cooper's Hawk brand has led to partnerships with some of the food industry's top trailblazers including Tyler Florence, Gail Simmons, Fabio Viviani, Jean-Charles Boisset and more.
"Collaboration builds community and connection," says McEnery. "And by collaborating with chefs like Jeremy Ford, we're able to provide wine club members access to curated experiences that are unique and special."
Jeremy has created a menu that pays homage to Spring – a season that brings life and new ingredients to the table. His first course, a Burrata with Togarashi, Ponzu & Melted Warm Butter is a spin off a dish that helped him seal the deal on Top Chef. He'll also be doing a Roasted Halibut with Asparagus, Morels & Pistachio followed by a Crispy Short Rib, Polenta Fries and dessert course. Wine pairings include selections from the award-winning Cooper's Hawk Lux Collection – Cooper's Hawk Lux Sparkling, Cooper's Hawk Lux Chardonnay, Cooper's Hawk Lux Meritage and their Ice Wine, which was recently crowned "Best Dessert/Specialty Wine of the Show" at the San Francisco Chronicle Wine Competition.
"This is an exciting and challenging collaboration for me," says Ford. "I'll be cooking for people who've been given access to some amazing chefs and experiences through the Cooper's Hawk wine club. I'm honored to now be part of that family."
Jeremy Ford took home the Top Chef title in 2016 and beat out 30 other chefs in a two-day competition earning him the Executive Chef position at Jean-Georges', Matador Room in Miami. After the win, Jeremy returned to Bravo in a new digital series called Isaac Takes On, where he reunites with former Top Chef season 13 contestant Isaac Toups. After three years at Matador Room, Jeremy has moved on to work on two new restaurant concepts of his own with Grove Bay Hospitality Group.
Event Details:
Friends of Cooper's Hawk Dinner with Jeremy Ford
June 6, 2017 | 6:30 – 9:30pm
Cooper's Hawk Winery & Restaurants
529 N. Alafaya Trail
Orlando, FL 32828
About Cooper's Hawk Winery & Restaurants
Redefining the modern casual dining experience, Cooper's Hawk is an unparalleled combination of restaurant, winery, Napa-style tasting room, and artisanal retail market. The innovative concept partners with some of the best grape growers in the world to craft the award-winning Cooper's Hawk wine collection. Additionally, Cooper's Hawk is the American winery with the largest Wine Club, a life-style driven monthly affiliation offering exclusive wines, events, and privileges to its 250,000+ members.
Website: http://www.chwinery.com
Twitter: @chwinery
Instagram: @chwinery
Facebook: http://www.facebook.com/coopershawk