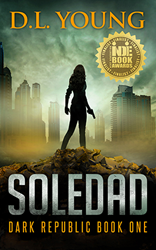 "...a poignant journey with a tenacious protagonist..." -- Kirkus Reviews
Houston, TX (PRWEB) May 31, 2017
Four organizations have awarded prizes this month to D.L. Young for his debut novel, Soledad, a futuristic thriller set in a failed Texas secession.
The novel, described by one critic as "Cormac McCarthy meets Paolo Bacigalupi," won the 2017 Independent Press Award for its category. Young also received finalist awards from the 2017 Next Generation Indie Book Awards, the 2017 International Book Awards, and the 11th Annual National Indie Excellence Awards.
"I was stunned, to be honest," Young said. "To receive four separate awards within weeks of each other wasn't something I was really prepared for. I've been overwhelmed with the positive response to Soledad since its release, and the awards are a great confirmation of the novel's reception from both readers and critics."
D.L. Young is a Pushcart Prize nominee, award-winning author, and founder of the Space City Critters Writers Workshop. For more on his writing, visit dlyounfiction.com.