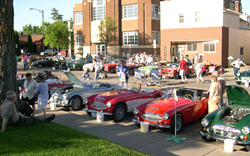 "It's also a great opportunity for car enthusiasts from around the region to discover some of the best cruising and day trip opportunities anywhere in the Midwest." - Megan Christianson, Executive Director, Visit Grand Rapids
GRAND RAPIDS, Minn. (PRWEB) May 30, 2017
Summertime in Minnesota brings numerous vintage car shows, but one unique event draws extraordinary classic cars and their caretakers to a special gathering every few years. The Vintage Sports Car Rendezvous – this year dubbed "Race to the Rapids Rendezvous 2017" is set to take over Grand Rapids June 1-4.
Hosted by the Minnesota Austin Healey Club, the Rendezvous draws enthusiasts across many diverse classic sports car and roadster brands. Regional clubs associated with other British brands such as Jaguar, MG, Triumph as well as some non-Brit clubs showcase more than 100 of the finest collectible sports cars each year for some friendly Rendezvous competition. The event draws enthusiasts from the Minnesota, Wisconsin, the Dakotas and Canada.
Best Photo/Video Opportunities

Airport Autocross: Drivers will put their vehicle, skills and personal nerve to the test through a closed course speed challenge using the runways and taxiways of the Itasca County Airport. The Airport Autocross takes place from 11 am to 3 pm, Friday, June 2.
Downtown Grand Rapids walking car show: Downtown streets will transport people to an earlier era of classic sports cars and roadsters with dozens of beautiful and some near-priceless vehicles on display. Walking car show runs from 4-7 pm, Friday, June 2.
Self-guided driving rallies: Vehicle owners and guests will cruise scenic byways around Grand Rapids, including treks around scenic lakes and the Chippewa National Forest.
As part of the Friday afternoon downtown car show, the Minnesota Austin Healey Club will conduct a fundraiser to support Grand Rapids Troop 4144 of the Boy Scouts of America. Participating auto clubs make it a point to raise significant donations to thank the community for its hospitality and support.
"Race to the Rapids will allow people to check out some rare collectible vehicles, the likes of which are seen at leading vintage car and sports car auctions around the world," said Megan Christiansen, executive director, Visit Grand Rapids. "It's also a great opportunity for car enthusiasts from around the region to discover some of the best cruising and day trip opportunities anywhere in the Midwest. Itasca County has hundreds of miles of scenic treks for top-down summer cruising."
About Visit Grand Rapids  
Visit Grand Rapids is the official destination marketing organization for the Grand Rapids, Minnesota, area. Visit Grand Rapids was founded in 1983 as a 501(c)(6) non-profit business association, with the objective to promote the Grand Rapids area as a destination for conferences, conventions, events, group tours and leisure travelers, thereby enhancing the economic growth of the area through travel and tourism. Visit Grand Rapids' mission is to generate a positive economic impact through travel and tourism. For more information, visit http://www.visitgrandrapids.com