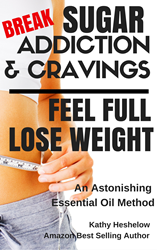 Feeling better, living longer, treating the body with respect through knowledge and use of natural products is key. The new book takes this approach to help those who eat more sugar than they should and thrive again.
St. Petersburg, FL (PRWEB) May 31, 2017
Improve health and wellness by understanding more about the foods consumed, including sugar. This is the goal of author Kathy Heshelow with her latest book "BREAK SUGAR CRAVINGS OR ADDICTION, FEEL FULL, LOSE WEIGHT," available on Amazon in eBook or paperback formats.
Sugar fires up the same center of the brain as heroin, crack and nicotine, and many don't realize they can actually become addicted to sugar. In fact, the body can tolerate up to about 5 teaspoons of sugar daily, but American consume about 1/2 pound daily! Just one soft drink can contain about 11 teaspoons of sugar!
A century ago, very few people suffered from diabetes in the U.S. while 1 in 11 today have the disease. National and medical studies (explained in the book) tie this to our growing sugar consumption. The book lays out these kinds of facts in chapter one to explain why one should pay attention.
The rest of the book explains how to reduce sugar intake, cravings and get on a better path with the use of essential oils.
For those new to essential oils, Heshelow is giving away her book "ANECDOTES, FUN FACTS & FASCINATING HISTORY OF ESSENTIAL OILS" free while joining her author list. Essential oils have been used effectively for centuries, and the book enchants those who read it and gives a basis of understanding.
ABOUT: Kathy Heshelow is a busy author and founder of Sublime Beauty, Sublime Naturals and Zen Box (a subscription box of essential oils.) She also specializes in passive income commercial real estate investments (NNN) and wrote a book about this special real estate recently. She lived in Paris, France for 16 years where she learned many of the wellness techniques and concepts she writes about today.