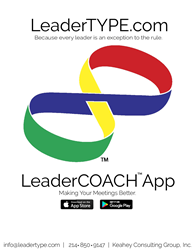 "Every leader is an exception to the rule."
Dallas, Texas (PRWEB) May 31, 2017
The greatest challenge business leaders face these days isn't that of finding best practices to implement. It's finding best practices -- and other leadership tools -- that align with their specific leadership personality.
However, a new website called LeaderType.com is setting out to ease that challenge for emerging leaders worldwide. It does so by connecting those leaders to a wealth of insights and techniques already found effective by industry heavyweights who share the same leadership style as the person logging onto the site.
Cash Keahey is president of KCG Consulting, the creator of LeaderType.com. He says the site was inspired by a 2012 Harvard Business Review article written by British business consultant, Marcus Buckingham.
"In that article," Keahey says, "Buckingham wrote that, 'Soon there will be a place, somewhere in the cloud, that continually gathers the best techniques, tips and practical innovations from high-performing leaders around the world, sorts them by each individual's unique leadership algorithm, feeds you the techniques that fit you best, and refines its filtering as it learns how you react to those techniques. It will be your own personal leadership coach, powered by the top leaders who are most like you.'
"That's LeaderType.com in a nutshell."
The site provides data, perspectives, and exercises that can empower leaders to:

Know Themselves – Users of the site will be able to identify the leadership style most natural to them, understand better their leadership needs, biases, and triggers, and own their brand -- along with its many advantages and deficits.
Show Themselves – They can also build their competence, authenticity and trustworthiness by seeking feedback from their team. Later, they can share the results of the feedback -- as well as their vision and values – with whomever they choose.
Coach Themselves – They can identify which leader behaviors they want to work on, obtain help from others who share their LeaderType™, and use the companion LeaderCoach™ app to better lead themselves and others while on the road.
The framework for the content found on LeaderType.com is the Myers-Briggs Type Indicator® (MBTI), the world's most widely used personality-type instrument. Those who subscribe to the site first identify which LeaderType™ (Independent, Inclusive, Visionary, etc.) most closely resembles theirs (the eight personalities correspond to those of eight of America's most effective presidents). The site then delivers a wealth of tips, approaches and other leadership tools well-suited to that dominant personality aspect. (Access here a short, animated video explaining how LeaderType.com works).
Keahey emphasizes that LeaderType.com differs from other leader-development sites in that all the activity that takes place on the site, stays on the site.
"Unfortunately, many online assessment sites are compromised by the fact your employer owns the data," he says. "So, the feedback you receive is rarely candid and marginally useful.
"It's been my experience as a consultant that those who are serious about developing their leadership crave honest feedback. Because LeaderType.com sits outside the firewall of one's organization, a user can develop their leadership expertise in a safe, secure and supportive environment and can control who the information gets shared with."
LeaderType.com currently offers subscription packages ranging from free to $24.99 a month. All the packages come with the site's companion app, LeaderCoach™, which guides subscribers as to how they can best conduct meetings or business conversations based on their LeaderType™.
#
Based in Richardson, Texas, KCG is a consulting and training company that focuses on developing leaders from the inside out. Over the past 20 years, its principal, Cash Keahey, has facilitated hundreds of leadership workshops for global Fortune 500 clients in 20 countries on six continents. He is available to speak on—and will publish in late 2017: 8 LeaderTypes™ in the White House: Discover the Natural Leadership Style You Share with a Great American President. KCG is offering a workshop June 14-16 for new/emerging, millennial leaders: The Elements of Leadership. See attachment for more information.
Contact:
Cash Keahey
President/CEO
Keahey Consulting Group, Inc.
Box 836616
Richardson, TX
214.850.9147
cash(at)leadertype.com