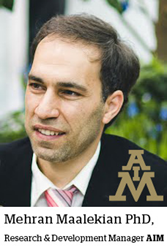 Cranston, RI USA (PRWEB) May 31, 2017
AIM Solder, a leading global manufacturer of solder assembly materials for the electronics industry, is pleased to announce that Dr. Mehran Maalekian, Research & Development Manager, will present his white paper "Low Silver SAC-Bi Lead-Free Solder For Enhanced Reliability" at the International Conference on Soldering and Reliability (ICSR) in Ontario, Canada, scheduled to take place June 7th, 2017. Dr. Maalekian's presentation will begin at 11:30 AM as a part of the Solder Joint Reliability session.
Dr. Maalekian's paper examines the effect of bismuth (Bi) on microstructure, mechanical performance and soldering properties of a low silver SAC alloy. The study demonstrates that adding Bi in certain percentages improves soldering performance and the mechanical behavior of low silver SAC alloy. The reliability characteristics of this Bi-containing low silver SAC in electronics assembly is also presented and compared with SAC305.
Dr. Maalekian is experienced in materials engineering with a focus on physical metallurgy, soldering, modelling in materials engineering, metal forming and thermo-mechanical processes. Dr. Maalekian has received numerous recognitions including the National Sciences and Engineering Research Council of Canada Award, the International Henry Granjon Prize (IIW), and IWS-Sossenheimer Award. Dr. He has published many scientific and technical papers, serves as a reviewer of several scientific journals and is on the editorial board of "Science and Technology of Welding and Joining."
About AIM
Headquartered in Montreal, Canada, AIM Solder is a leading global manufacturer of assembly materials for the electronics industry with manufacturing, distribution and support facilities located throughout the world. AIM produces advanced solder products such as solder paste, liquid flux, cored wire, bar solder, epoxies, lead-free and halogen-free solder products, preforms, and specialty alloys such as indium and gold for a broad range of industries. A recipient of many prestigious SMT industry awards, AIM is strongly committed to innovative research and development of product and process improvement as well as providing customers with superior technical support, service and training. For more information about AIM, visit http://www.aimsolder.com.
Upcoming Events:
June 8, 2017 – SMTA Tijuana – Tijuana, Mexico
June 22, 2017 – SMTA Upper Midwest – Minnetonka, MN
July 13, 2017 – SMTA Ohio– Independence, OH