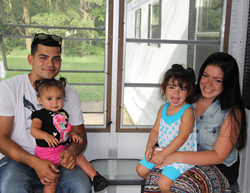 "Partners in Housing will help many of the families we serve attain the American dream of owning an affordable home of their own."
Summit, NewJersey (PRWEB) May 31, 2017
Family Promise, the leading national nonprofit helping homeless families achieve sustainable independence, is proud to announce the launch of Partners in Housing, an innovative solution designed to assist families experiencing homelessness transition quickly to owning homes of their own. With funding from the Tides Foundation, Family Promise is making three initial grants of $10,000 to Affiliates in Colorado Springs (CO), Gainesville (FL), and Anoka County (MN) to create pilot programs in which families graduating from their shelter programs are placed in refurbished manufactured housing units in local trailer parks. In a matter of months, the title to the unit will be transferred to the family and they will become homeowners.
This is a program aimed directly at the root cause of family homelessness—the lack of affordable housing. Estimates are that only one in four households in need of subsidized housing is actually getting it. This is the core issue behind family homelessness—more than employment, stability, health or anything else.
Family Promise President Claas Ehlers describes the initiative's goals: "Our goal at Family Promise is the empowerment of families to leave homelessness behind and achieve the level of security every family deserves. As a national leader in the fight against homelessness, we are committed to exploring solutions that help families look to the future. Partners in Housing will help many of the families we serve attain the American dream of owning an affordable home of their own."
Here's how it works: the Affiliate identifies low-cost manufactured housing options, often damaged or distressed, in local trailer parks. Working with Family Promise national partner Farmers Insurance, the nation's largest insurer of manufactured homes, the home is professionally assessed to ensure that it can be successfully rehabilitated. It is then purchased at a fraction of the cost of other permanent housing options, refurbished by Family Promise volunteers and local business partners, and presented to qualified families who have graduated from the program.
The families receive extensive case management and ongoing support to assure they will be able to sustain their independence. After a transitional period of 6-12 months, in which the family pays lot rent and utilities, the title to the home is turned over to the family. All parties benefit: the family has gone from homeless to home owners, the Affiliate has successfully placed a family in permanent housing, and the park owners have a renovated property with a motivated homeowner.
The initiative is modeled after the spectacularly successful Partners in Housing Program created in Grand Rapids, MI. Over the past nine years, Family Promise of Grand Rapids has moved 91 families into manufactured homes, with a success rate of 97%. "This program not only ends homelessness for our families but it actually helps them move out of poverty. This changes the future for the children and affords them a real chance at a healthy future, which in turn changes the future for our entire community," Grand Rapids Executive Director Cheryl Schuch said.
Based on outcomes of the three initial programs, the goal is to expand Partners in Housing next to 10-15 pilot sites representing a cross-section of the regions and demographics served by Family Promise Affiliates. Eventually, Affiliates across the country will be operating PIH programs, with thousands of families moving from homelessness to home ownership, or variations on the program that could provide other affordable options, such as creating affordable, transitional housing units out of manufactured homes.
About Family Promise
Founded in Summit in 1988 to address homelessness in Union County, Family Promise has grown into a national organization with 206 Affiliates in 43 states. Since then, Family Promise has served more than 750,000 people, the majority of them children. Family Promise Affiliates served nearly 70,000 people last year by providing shelter, food, and a host of other comprehensive support services. On average, 74% of the families served by Family Promise secure housing within nine weeks of entering the program.