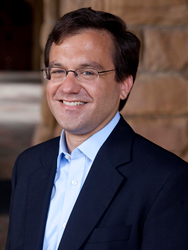 I was immediately drawn to Carthage College as one of so few liberal arts institutions that can claim both long-standing excellence and profound momentum.
Kenosha, Wis. (PRWEB) May 30, 2017
The Board of Trustees at Carthage College has unanimously elected John R. Swallow to serve as president.
Swallow brings an entrepreneurial approach and highly relevant experience as a senior administrator, trustee, and faculty member at three small, private liberal arts institutions. He comes to Carthage from The University of the South, known informally as "Sewanee" for the Tennessee community in which it's located.
As chief academic and operating officer, he has overseen notable strides in the university's curriculum, fundraising, equity and inclusion, enrollment, student life, faculty and staff development, and strategic planning.
He becomes the 23rd president in Carthage's 170-year history, succeeding Gregory S. Woodward. After a distinguished five-year term, Woodward is leaving to assume the presidency at the University of Hartford in his Connecticut hometown.
Swallow plans to take office July 1. He arrives at a time of unprecedented prosperity for the College, evident in its record enrollment, 30 consecutive years of operating surpluses, and $200 million investment in campus facilities since 1999.
"I was immediately drawn to Carthage College as one of so few liberal arts institutions that can claim both long-standing excellence and profound momentum," he said. "Carthage's deep heritage, exceptional faculty and staff, and state-of-the-art facilities are a special and rare combination, and the opportunity to lead Carthage to become ever stronger was truly captivating."
The hire caps a nationwide search that firm Myers McRae coordinated with input from Carthage faculty, staff, students, and trustees.
"I am proud to welcome John Swallow to Carthage as our next president," said Ambassador David A. Straz Jr., chairman of the board. "The breadth and caliber of his distinguished career at prestigious liberal arts colleges has prepared him for this outstanding opportunity."
Enrolling at age 15, Swallow graduated from Sewanee in 1989 with honors in both mathematics and English literature. He went on to earn two master's degrees and a Ph.D. in mathematics, all from Yale University.
Joining the faculty at Davidson (North Carolina) College in 1994, he taught there for 17 years — 10 of them in an interdisciplinary humanities program. He was elected leader of the faculty, and students honored him with the Omicron Delta Kappa Teaching Award in 2010.
His combination of analytical and communication skills impressed Carthage faculty. Aaron Trautwein, a professor on the presidential search committee, attributes that to the incoming president's dual interests in the sciences and humanities.
"He has a very authentic voice," Trautwein said. "He sees the world through many lenses. It's really powerful to have someone who can do that."
Swallow returned to his undergraduate alma mater in 2011. He was appointed Sewanee's provost the next year and its executive vice president in 2014, holding responsibility for the institution's strategic planning and execution, day-to-day operations, and operating budget. Under his leadership, applications increased by 63 percent and diversity among the faculty rose to 18 percent, in line with the student body.
Even before joining the administration, Swallow took an active role in Sewanee's governance as an elected trustee and, later, regent. He moved to cut tuition and fees by 10 percent, which contributed to a spike in visits and enabled admissions officers to more selectively screen applications.
More recently, he served as a trustee at Agnes Scott College in Decatur, Georgia. In 2015, the women's college implemented the SUMMIT curriculum, which features global learning and leadership development and pairs each student with a personal career mentor and board of advisors.
Swallow has written articles in The Chronicle of Higher Education and The Huffington Post, plus an undergraduate textbook and more than two dozen research articles in mathematics.
"Our faculty will really respect that he's a scholar-teacher," Trautwein said. "He's an experienced researcher who also knows how to relate to students. That's something we want all faculty members to model on campus."
Swallow's wife, Cameron, is a high school math and English teacher, and they have two children in college: Ruth, 20, and Sophie, 18. Besides the similarities of the institutions, he was attracted to Kenosha's size and the chance to move closer to relatives in the Chicago area.
"Cameron and I are thrilled to join the Carthage community," Swallow said. "The Carthaginians we met demonstrated such a genuine welcome, and such a deep commitment to transforming the lives of students, that we knew we had found the right place for us for many years to come. We simply can't wait to get started."