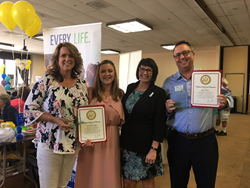 "I am proud and happy to earn this recognition from the Senior Service Network as well as more trust from the Northern Nevada Senior Community." - Amada Senior Care Northern Nevada owner Ryan Hart
Reno, Nevada (PRWEB) May 31, 2017
Ryan Hart, owner of Amada Senior Care Northern Nevada, has been named Outstanding Service Provider of the Year by the Senior Service Network.
Ryan Hart is heavily invested in his passion for senior care due to his experience having parents with Parkinson's disease. Hart's expertise as a former medical device representative and Amada Senior Care business owner expands into his charitable service as a volunteer Public Relations Officer for the Senior Service Network in Northern Nevada.
The Senior Service Network is "an experienced team of volunteers whose mission is to have a positive impact on seniors' quality of life by networking, sharing expertise and staying current on issues important to the senior community. Through fundraising and community donations, the Senior Service Network offers a safety net to needy seniors by providing a one-time, emergency financial intervention when no other resource exists," according to its website.
Ryan's dedication to the Northern Nevada senior community is highlighted by a $21,000 grant he earned from AllState Insurance for the Senior Service Network. Ryan earned this grant with the help of his wife, Juliana. The grant is the largest donation the Senior Service Network has ever received.
On Thursday, May 25, 2017, Ryan was officially recognized as an Outstanding Service Provider. He was also publicly acknowledged for his service by the office of United States Senator of Nevada Dean Heller.
In reaction to his award Ryan says, "I am proud and happy to earn this recognition from the Senior Service Network as well as more trust from the Northern Nevada senior community."
For more information about the services Amada Senior Care Northern Nevada provides, visit http://www.AmadaNorthernNevada.com or call 775-501-9652.
About Amada Senior Care
Amada Senior Care is committed to enriching lives. We provide nurturing, compassionate non-medical in-home care and guide families through the many senior housing options available for assisted living. We also offer expertise in handling long-term care insurance claims and in certain forms of government aid, including Veterans Aid and Attendance Benefits. Headquartered in San Clemente, California, Amada was founded in 2007, and is currently assembling an elite team of franchise partners to expand our business on the national level. For more information, visit http://www.AmadaSeniorCare.com.