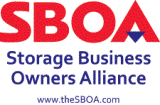 Farmington Hills, MI (PRWEB) May 31, 2017
The Storage Business Owners Alliance, LLC. ("SBOA") (http://www.TheSBOA.com), the premiere buying group for self-storage owners and operators nationwide, announced today that it has teamed with SpiderDoor as a Preferred Vendor Partner for self-storage business management via mobile application.
"There is a gap in the self storage market for the SpiderDoor mobile application and we are pleased to welcome them as vendor partners," Ian Burnstein, President and Co-Founder of the SBOA, stated. "We are confident that we will continue to provide value to our members and to SpiderDoor with this partnership," Burnstein added.
SpiderDoor technology offers self-storage owners and operators a personalized mobile app that affords tenants a convenient and streamlined alternative to physically renting units, paying bills, opening facility gates and submitting maintenance requests at the facility. In addition, self-storage owners and operators are capable of setting timed payment reminders through push notifications and restricting delinquent tenants from entering the premises until payment has been received. SpiderDoor technology became available in January 2017 and is directly integrated with software platforms such as SiteLink and DoorSwap and is working towards integration with additional software programs.
About The SBOA
The SBOA features pre-negotiated discounts with more than 30 industry-leading vendors for the benefit of its 6,000+ member-facilities within the self-storage industry. To sign up for the SBOA or to learn more about these affiliate programs, visit the SBOA website, TheSBOA.com or contact Alison DeJaeger at 248-473-3755 or Alison(at)TheSBOA(dot)com.
About SpiderDoor
The SpiderDoor application was built with speed in mind, to help maintain a strong interface. Produced by one of the best software developers in the industry, the app was created with the goal of fulfilling all of the needs of a self-storage business, from a mobile device. To learn more about SpiderDoor, visit the SpiderDoor website, SpiderDoor.com or contact Dakota Harwell at 205-503-8267 or Dakota(at)SpiderDoor(dot)com.
###