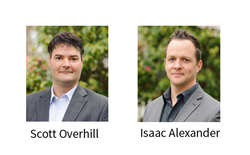 "We are continuing to extend our leadership in the markets that we serve by delivering the solutions that health care providers need to deliver the best services to people in their care." - Christopher Junker, CEO
Schaumburg, IL (PRWEB) May 31, 2017
Complia Health, a leading global provider of enterprise software for long-term and post-acute care provider organizations, announced today the promotions of two key employees who have been instrumental in the success of the organization. Scott Overhill has been promoted to Chief Strategy Officer and Isaac Alexander has been promoted to Chief Technology Officer.
Both are founding members of the Complia Health executive team and were critical to the recent business gains for Complia's Procura software solution in the Canadian marketplace leading to the latest multi-year partnership with ParaMed Home Health Care.
"I am proud to have Scott and Isaac leading the charge in their new roles," said CEO Christopher Junker. "We are continuing to extend our leadership in the markets that we serve by delivering the solutions that health care providers need to deliver the best services to people in their care."
Both Overhill and Alexander bring a wealth of knowledge to their roles. Overhill has over 27 years of experience in the home and community care sector, the majority of that in leadership roles within Complia Health. He will lead Complia Health's global product strategy and product management teams. Alexander's focus will be on the Procura solution portfolio, where he brings a depth of knowledge in aspects of software technology, including solution architecture, reconstruction and refactoring, technology standardization, and product modernization.
In the Canadian and Australian markets, the Procura system excels at managing the operational, clinical, and financial processes for enterprise providers of services including home care, community support services, nursing and therapy services, and most other community-based services within the care continuum.
To learn more about Procura and its robust features, click here.
For more information about Complia Health's Leadership Team, click here.
About Complia Health
Complia Health is a leading global provider of technology and expertise for the post-acute and long-term care markets. Nearly 3,000 home health, hospice, palliative care, residential care and community care organizations count on Complia Health for the clinical, operational, and financial solutions required to profitability deliver quality care to its clients. Complia Health's innovative products—including Procura, ContinuLink, Suncoast, Igea, and Progresa—are supported by a team of global health and technology experts located in the United States, Canada, and Australia. For more information, visit http://www.compliahealth.com.