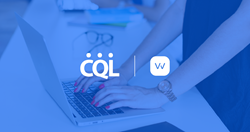 Workarea and CQL share a goal of helping retailers and brands punch above their weight.
Philadelphia, PA (PRWEB) May 31, 2017
Today, the team behind Workarea, the modern SaaS commerce platform from WebLinc purpose-built for medium to large businesses, has announced that CQL, a digital agency with 22 years experience in managing commerce support for global companies, has joined the exclusive Workarea Partner Network. CQL becomes one of just a handful of digital agencies to offer the flexible and modern Workarea Commerce Platform to retailers, brands and merchants to help grow their ecommerce business.
"Workarea and CQL share a goal of helping retailers and brands punch above their weight," said Darren C. Hill, CEO and co-founder of WebLinc. "This partnership will accelerate the emergence of Workarea as the dominant commerce platform and bring long-term value to CQL's customers. The Workarea and CQL teams share a rich history in retail and ecommerce. Our cultures and vision for what today's retailers need to rapidly grow their online business couldn't be more aligned."
Founded in 1995, CQL helps its companies grow work smarter and envision new ideas. They deliver ecommerce roadmaps, experience design, software platforms and custom applications. CQL's work for world-class brands such as Merrell, Costa, Sperry, Keds and Petco has been proven to increase conversions. CQL also offers complimentary revenue-generating services far beyond implementation to ensure commerce solutions stay on course.
For more than 22 years, the founder-led company has been known as one of the Midwest's leading digital agencies focusing on strategy, design development and analytics. Whether connecting disparate systems to optimize data flow or developing custom software from scratch, CQL has deep, expert competency to support the integration of commerce to all aspects of a customer's business. Partnering with the Workarea Partner Network, the digital agency is now equipped to empower mid-market retailers with lean teams to have total control of their ecommerce sites using the world's most modern commerce platform.
On joining the Workarea Partner Network, CQL's VP of Enterprise Solutions Doug VandenHoek said, "The modern tech stack and user-friendly nature of the Workarea platform will take our customers' online businesses and CQL's in-house services to new heights. CQL customers have expressed great interest in accelerating replatforming initiatives and Workarea has proven itself to be a market leader there. Since the Workarea system was built with developers in mind, our team is excited to get to work on the flexible platform."
The Workarea Partner Network, an addition to the Workarea Partner Channel, gives mid market retailers access to the most in-demand solutions and commerce expertise. Applying two-decades plus of industry knowledge, the Workarea team has designed a time-tested, modern process to help the most innovative commerce agencies, developers and strategists implement the SaaS Workarea Commerce Platform. Solutions Partners are vetted and trained in order to ensure smooth implementations, and work alongside the Workarea team on every build.
About Workarea
Workarea is the modern SaaS commerce platform purpose-built for medium to large businesses to achieve their full potential online. A product of 20+ years experience at WebLinc, ecommerce, content management and analytic insights are built as one platform promising unmatched flexibility, constant product evolution, and empowered merchant teams. Workarea is the platform of choice for growing online retailers and merchants such as Sanrio/Hello Kitty, Do it Best Corp., U.S. Polo Assn., Woodcraft, Costume SuperCenter, Lime Crime, Rachel Roy, and many others. To learn more, visit http://www.workarea.com.
About CQL
Headquartered in Michigan, CQL is a digital agency specializing in world-class ecommerce, digital marketing, business software, business intelligence and experience design. We help our customers grow, work smarter, and envision new ideas. Known in the industry as the team that implemented one of the largest re-platforming projects in recent history, CQL launched Wolverine Worldwide's 14 brands across 70 sites and 13 countries in just 18 months.
"Connecting People and Data for Good." Learn more at http://www.cqlcorp.com.