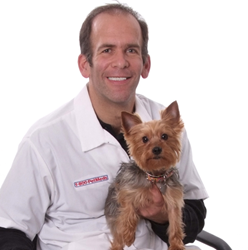 "Aging pets should be taken in for veterinary exams twice each year for thorough physical and oral exams" ~ Dr. Michael Dym, VMD
Delray Beach, Florida (PRWEB) May 31, 2017
When it comes to vet visits, many pet parents opt to bring their pets to the veterinarian only when they need vaccinations or in the case of a health emergency. This leaves aging pets at a disadvantage because this is the time in a pet's life when bi-annual checkups are vital. Catching preventable health issues early is crucial to keep older pets healthy and active in later years.
Many senior pets succumb to preventable diseases that to the untrained eye may just seem to be part of growing older. Easy-to-miss symptoms such as lethargy, mobility issues, or a change in behavior may be signs of an underlying condition that can be reversed if caught in time. As Dr. Dym explains, "aging pets should be taken in for veterinary exams twice each year for thorough physical and oral exams, as well as blood and urine testing to search for early signs of degenerative and organ-based diseases."
Some pet parents may avoid checkups for senior pets due to the cost of vet visits. The truth is, skipping regular examinations may result in much higher costs down the line when a preventable health problem turns into a medical or surgical emergency. The $45-$75 cost of a regular checkup, if skipped, may end up costing thousands of dollars in treatment and medication bills when a health issue is left undetected for too long.
Even more important is that a beloved pet may endure significant pain and distress from not having a health condition diagnosed and treated early. Of course, in some cases, without early detection, such conditions may be fatal.
Read "The Vet's Secret to Helping Senior Pets" for expert insights into the importance of regular vet visits for senior pets, as well as specific product suggestions to help keep older pets feeling young and healthy. 1-800-PetMeds® also offers quick access to expert veterinary advice with the "Ask the Vet" feature and an informative library of pet health articles and videos in the Education section at 1800PetMeds.com and in the 1-800-PetMeds® mobile app.
About 1-800-PetMeds®
Founded in 1996, 1-800-PetMeds® is America's Largest Pet Pharmacy® and Vet-VIPPS accredited, delivering prescription and non-prescription medications, and pet supplies for less, direct to the consumer through its 1-800-PetMeds® toll-free number, on the Internet through its website 1-800-PetMeds.com, or with the 1-800-PetMeds® mobile app available at Google Play for Android and the App Store for iOS.