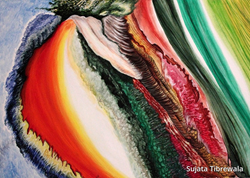 The exhibition began earlier this month at LFAC and will be on until August 22
(PRWEB) May 31, 2017
A multi artist show that brings together artists from various genres to converge their artworks that talk about art as a medium of healing, restoring and re-instilling faith is currently on exhibit at Life Force Arts Center in Chicago.
Artist Sujata Tibrewala with her artworks that speak the language of spirituality is also a part of this successful exhibition. Ms Tibrewala's artworks send a silent yet clear signal to bring good vibes and positive energy back into this world, fraught with horror and destruction. The exhibition began earlier this month and will be put up for public showcase until August 22.
The theme of the exhibit is a continuation of a series exploring the incredible powers of art. Earlier in the year, the art gallery, which focuses on, the spiritual powers of art ran another series on art as the language of learning.
Artist Sujata Tibrewala who has been regularly showcasing her works in the US both in the Mid West as well as in the Bay Area where she resides believes that the more art comes into a free, public domain the more effective it becomes.
Through her artworks she aims to speak to common people -- the men and the women on the streets. She plans to take her art across spectrums, galleries and public spaces as well as to the social media to encourage people to depict their meanings through art. For her, art is a healing process, only when every onlooker draws a meaning out of it and feels strengthened by it.
As a participating artist in the ongoing exhibition her featured works include a painting titled 'Music Within,' which shows colors as a medium to heal.
The artist shows the positive synergies in the nature and the cyclic routine that the universe follows to showcase that high and lows also follow a cyclic pattern in life. The idea is to be grateful during the highs and hopeful during the lows.
If art can give this deep meaning then it can indeed possess powers greater than we imagine.
About the artist:
Sujata Tibrewala, a self-taught artist come engineer remarkably embodies the indomitable spirit of human existence through her works. Her works revolve around the theme of eco-feminism. She has exhibited her artworks in some of the most reputed venues around the globe such as University of Illinois, Chicago, Raw San Jose, Parallax Art Fair London, the Regional Commission of Arts St Louis, Life ForceArts Chicago, Mindworks Gallery Chesterfield, St. Louis Artists' Guild, Chesterfield Arts, Art World Association, Women's Caucus for the Arts, MySLART and Lalit Kala Academy, Delhi.
She shifted to the USA in 2010 from India and practices her craft and conducts art workshops at Bay Area, CA, where she resides presently.