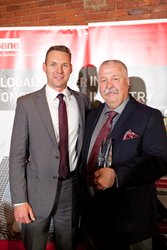 Pat exemplifies the core values of Gilbane and has been a tremendous team member and mentor to many of our employees. -Brett Meyer, Vice President
Columbus, OH (PRWEB) May 31, 2017
Pat Toney, senior general superintendent was recognized at Gilbane's annual Business Unit dinner on May 17 as the 2017 recipient of the Greg Honzo Core Values Award. This award was instituted in Greg's name to honor an Ohio employee who illustrates Gilbane's Core Values in their professional and personal lives and who continually exceeds expectations through their dedicated service to the company.
Pat Toney, based in the Columbus office, has been in the construction industry for more than 39 years, was a union carpenter and joined the Gilbane team in 1996. Pat is a veteran in the industry and exemplifies honor and integrity in every aspect of his life. During his time at Gilbane, Toney has worked with many clients throughout the State of Ohio. Some of the key clients include The Andersons, Inc., The Ohio State University, Battelle Memorial Institute, Cleveland State University, Franklin County, JPMorgan Chase, Huntington National Bank and LimitedBrands. Over the years, Pat has been a steady and consistent presence on Gilbane jobsites, ensuring that his projects are completed at the highest level of quality and safety.
"I have the utmost respect for Pat and his dedication to Gilbane and the entire construction industry. Pat exemplifies the core values of Gilbane and has been a tremendous team member and mentor to many of our employees. It was an honor to present Pat with the Greg Honzo Core Values Award, and I truly value his leadership and contributions to our Ohio team." said Brett Meyer, Vice President
At the dinner, Pat was very humbled by this incredible honor. It is especially personal for Pat, because Greg Honzo originally hired Pat and had a profound impact on his career growth.
The Core Values Award was created to honor Greg Honzo who was a project executive in Ohio and loyally served Gilbane for more than 25 years. Greg passed away in September 2007 after a three-year battle with breast cancer.
About Gilbane Building Company
Gilbane provides a full slate of construction and facilities-related services – from pre-construction planning and integrated consulting capabilities to comprehensive construction management, general contracting, design-build and facility management services – for clients across various markets. Founded in 1873 and still a privately held, family-owned company, Gilbane has more than 50 office locations around the world. For more information, visit http://www.gilbaneco.com. Gilbane has been providing construction management services in Ohio since 1959.