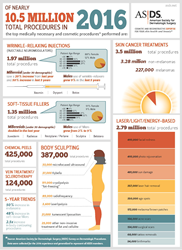 The results of our annual procedures survey validate the level of expertise and care that ASDS members provide their patients.
Rolling Meadows, IL (PRWEB) May 30, 2017
Dermatologic surgeons performed nearly 10.5 million medically necessary and cosmetic procedures in 2016 – five percent more than 2015 and up 31 percent since 2012.
The results of the 2016 ASDS Survey on Dermatologic Procedures released today reveal a variety of trends including another increase in skin cancer treatments and continued growth in popularity of neuromodulators, soft-tissue fillers and body sculpting procedures.
For the fifth year in a row, skin cancer treatments ranked as the most-performed procedure (3.5 million) by ASDS members, confirming both the growing incidence of the disease as well as demand for ASDS member expertise of its treatment. Since 2012, skin cancer treatments have risen 35 percent.
Members also performed over seven million cosmetic treatments in 2016 — with the largest year-to-year growth seen in body sculpting (68 percent) and injectable neuromodulators (10 percent).
"The results of our annual procedures survey validate the level of expertise and care that ASDS members provide their patients," said ASDS President Thomas Rohrer, MD. "Whether their need is medical or cosmetic, patients trust the expertise of their ASDS dermatologic surgeons to employ the most effective solution to treat their condition. The data further indicates the growing acceptance of minimally and non-invasive cosmetic procedures to maintain or restore an appearance that helps patients to look and feel their best."
Cosmetic procedures continue to grow
The top cosmetic treatments in 2016 were:

2.8 million procedures using laser, light and energy-based devices – Treats a variety of skin conditions including facial redness, excess hair, age spots, sun damage, scars and birthmarks.
1.7 million neuromodulators – Injectable wrinkle-relaxers to smooth fine lines on the face.
1.35 million soft-tissue fillers – Restores fullness to the face, plump lips and raise depressed scars.
425,000 chemical peels – A solution applied to the skin causing it to exfoliate and eventually peel off, revealing new, smoother skin.
387,000 body sculpting treatments – Procedures ranging from "fat-freezing" to injectables that help remove stubborn fat and tighten skin.
In the last five years, the number of body contouring procedures has grown two and a half times. This growth is reflective of consumer concerns. Respondents to the 2016 ASDS Consumer Survey on Cosmetic Dermatologic Procedures indicated for the fourth year in a row that excess weight is their top cosmetic concern. Body sculpting treatments including cryolipolysis – commonly known as "fat-freezing" – rose over 76 percent just this year. Additionally, new procedures offer even more minimally invasive treatment options, such as Kybella, popular for fat below the chin, and microfocused ultrasound used for skin tightening.
Within the growth of procedures performed, the male and millennial demographics' interest in cosmetic treatments also continues to rise. In the last five years, men receiving wrinkle-relaxers has increased nine percent, and men using soft-tissue fillers grew from two to nine percent. Additionally, patients under 30 years old are seeking more cosmetic treatments. Millennials' use of wrinkle-relaxers increased 20 percent from 2015 and 50 percent since 2012. The use of soft-tissue fillers for those under 30 years old doubled in 2016. This growth reflects the expanding interest in men wanting to look their best and younger consumers taking a proactive anti-aging approach to the health and beauty of their skin.
"The growing number of options for non-invasive cosmetic treatments offer consumers a variety of choices, which is an amazing opportunity, but at the same time can be overwhelming," said Dr. Rohrer. "ASDS members offer cosmetic medical guidance the public can trust, allowing them to choose the right procedure for their specific needs."
Skin cancer still on the rise
As skin cancer rates continue to increase, dermatologic surgeons provide expert diagnosis and treatment while remaining committed to educating the public about prevention methods.
Of the 3.5 million skin cancer procedures performed by ASDS members in 2016, 227,000 were for melanoma — a four percent increase from 2015. Treatments for non-melanoma skin cancers also increased 10 percent over last year.
"ASDS members take a comprehensive approach toward the management and prevention of skin cancer, from offering patients treatment options to promoting sun-safe behaviors, community education and free skin cancer screenings," Rohrer said.
"The public is increasingly aware of the need to have any new or suspicious lesions checked by an ASDS member dermatologist," said Dr. Rohrer. "We're heartened to know we've been able to treat millions of patients to minimize the life-threatening and disfiguring effects of the disease. ASDS members continue to stress the benefits of screenings and prevention education."
# # #
About the survey
Data were collected for the 2016 experience and generalized to represent all ASDS members. The survey was conducted January 4, 2017, to February 8, 2017, for data reported in 2016. The survey link was sent to 3,853 practicing members. Survey results are reported based on 627 physicians, or a 16 percent response rate.
About American Society for Dermatologic Surgery
American Society for Dermatologic Surgery (ASDS) is the largest specialty organization exclusively representing dermatologic surgeons who have unique training and experience to treat the health, function and beauty of your skin. ASDS members are pioneers in the field. Many are involved in the clinical studies that bring popular treatments to revitalize skin and fill and diminish wrinkles to the forefront. Their work has helped create and enhance many of the devices that remove blemishes, hair and fat, and tighten skin. Dermatologic surgeons also are experts in skin cancer prevention, detection and treatment. As the incidence of skin cancer rises, dermatologic surgeons are committed to taking steps to minimize the life-threatening effects of this disease. For more information, visit asds.net.
Follow us on Twitter: twitter.com/ASDSSkinExperts
Become a Facebook fan: facebook.com/ASDSSkinExperts
Locate a dermatologic surgeon in your area: asds.net/findadermatologist.aspx