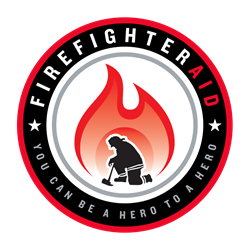 "No matter the needs of our firefighters, we are there for them." - Carlye Wund, Director of Development
San Diego, CA (PRWEB) June 01, 2017
GovX, the online shopping site exclusively for current and former military and first responders, selected FirefighterAid as June's recipient of the Mission Giveback donation program. Each month, GovX selects a new service-related cause, foundation, or nonprofit performing work in the military, first responder, or law enforcement communities. Each monthly organization receives a portion of GovX proceeds from all orders placed during the given month.
FirefighterAid is a 501(c)(3) fund, managed by San Diego Fireman's Relief Association (SDFRA). It provides charitable assistance to firefighters and their families in times of need and promotes awareness of firefighter health and safety issues. They are supported entirely by donations from SDFRA members and the public.
"We first met the hard workers at FirefighterAid at last year's San Diego 9/11 Memorial Stair Climb here in San Diego, and it was an honor to climb alongside them and firefighters from around the county," said Tony Farwell, GovX co-founder and chairman. "We continue to be in awe of the work they do for these heroes of our community as well as their families, and it's a pleasure to be able to donate to their mission during this month."
Recipients of FirefighterAid's outreach are as diverse as they are numerous. The fund supports firefighters' children who live with autism and muscular dystrophy, and volunteers provide transportation for firefighters struggling with illnesses that leave them unable to drive. Volunteers have provided logistical and emotional support for widows of fallen firefighters, performing chores and house work and sending gift baskets around Valentine's Day every year. The fund has also provided scholarships for attending the fire cadet program, helping enthusiastic young people achieve their dream of becoming firefighters.
"FirefighterAid is all about caring for our heroes in their time of need, because they care for us on some of the worst days of our lives," said Carlye Wund, director of development at FirefighterAid and event producer of the San Diego 9/11 Memorial Stair Climb. "No matter the needs of our firefighters, we are there for them."
In addition to financial support, FirefighterAid also provides for firefighters and their families through diverse volunteer efforts. The organization relies on volunteers to help families of firefighters battling illnesses with tasks such as grocery shopping, house cleaning, and meal prep—useful assistance, especially for former firefighters who live with disabilities caused by injuries in the line of duty.
If you're interested in offering your time with FirefighterAid, learn more at their Get Involved section.
About GovX:
GovX.com is for men and women of service. A members-only online destination for military and first responders, the site offers thousands of products from hundreds of brands at exclusive, below-retail pricing. Members include active and veteran U.S. military, firefighters, law enforcement officers, federal agents, and personnel from related government agencies. For more information, visit http://www.govx.com.