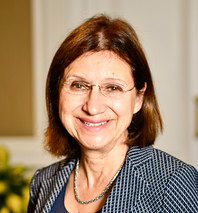 Dulles, VA (PRWEB) May 31, 2017
Fran Craig, Unanet's CEO and Founder has been invited to join the Board of Advisors of the newly formed, Mason GovCon Initiative.
The Mason GovCon Initiative is building a distinctive competency in the business of government and government contracting at Mason's School of Business. Using its neutral convening power, the Initiative seeks to benefit both sides of the market, government and business. Discussion, curricula, and executive education will enhance the experience of the individual members. Research and publication will build a knowledge base for innovation and best practices for the market. Scholarships and fellowships will recognize and promote excellence and thought leadership.
"We are thrilled to have Fran Craig on the Advisory Board for the GovCon Initiative. She has always been known as a thought leader in this marketplace and has demonstrated throughout her career a deep understanding of the business issues in the GovCon sector and how to improve its efficiency and effectiveness." said Dr. John Hillen, Chairman of the Board of Advisors of the Mason GovCon Initiative and Executive in Residence and Professor of Practice, George Mason University.
"I was so honored to have been asked to join the Board of Advisors of the Mason GovCon Initiative. My fellow Board members represent the best of the GovCon space, and working with George Mason, which has long been an educational powerhouse in Virginia, makes the work that the GovCon Initiative will be able to accomplish, even more exciting." said Ms. Craig.
Ms. Craig joins a diverse and growing Board of Advisors with industry leaders who represent a full range of experience—small to large business; accounting, compliance and legal; banking, technology and workforce. And it is a Board eager to share lessons and insights in management and performance that will enable objective and academically rigorous solutions for the industry.
Ms. Craig looks forward to the many program initiatives and events that the new Mason GovCon Initiative will be bringing to the government–contracting industry.
About Unanet
Unanet is a leading provider of Cloud and On-Premise software for project-based organizations. Unanet delivers a purpose-built Project ERP solution with skills management, resource planning, budgeting & forecasting, time & expense reporting, billing & revenue recognition, project management analytics and dashboards, and integrated financials with AR, AP, GL and cost pool calculations. Over 1,000 organizations trust Unanet to maximize staff utilization, reduce administrative costs by 90%, improve invoicing by 10X, and support forward decision-making for improved operations.
About the Mason GovCon Initiative:
The GovCon market is a huge ($500B+), diverse, sophisticated, and interesting industry whose business interests are worthy of specialized academic study, research, and curricula. The industry is based in the Northern Virginia–DC Capital region, likely employs 1 in every 6 professionals in the area, and has some 10,000 Mason alumni working in it. Being known for having a distinctive competency in the business of government and government contracting will be a competitive advantage for Mason's School of Business and helps to create a more efficient and effective market for the public good.