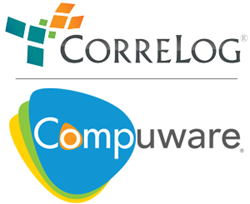 Every day we are seeing more real threat to critical data that large organizations frequently store on z/OS. Not least of which is an insider with advanced privileges, an area of data risk specialization Application Audit™ and zDefender™ address.
Naples, FL (PRWEB) May 31, 2017
CorreLog, the leader in multi-platform IT security event log management, today announced a technology partnership with global mainframe solution vendor, Compuware. The partnership aligns CorreLog zDefender™ for z/OS with Compuware Application Audit™, enabling cybersecurity teams to receive z/OS data in leading SIEM solutions such as Splunk, IBM QRadar, HPE Security Arcsight ESM, and CorreLog SIEM Correlation Server. Application Audit™ from Compuware is an innovative cybersecurity and compliance solution that significantly enhances the ability of enterprises to stop insider threats by fully capturing and analyzing start-to-finish mainframe application user behavior. This thorough mainframe user behavior intelligence is especially important to large enterprises, as their most sensitive data and most business-critical systems typically reside on the mainframe.
"We're proud to join Compuware in its pursuit of leading-edge mainframe cybersecurity and compliance solutions," said CorreLog President and CEO George Faucher. "Every day we are seeing more real threat to business- and customer-critical data that large organizations frequently store on z/OS. Not least of which is an insider with advanced privileges, an area of data risk specialization Application Audit™ and zDefender™ address."
Real-time mainframe event data is rarely factored into IT security policies and processes for most Fortune 500 enterprises. A common scenario is z/OS event data sent to the SIEM or IT SOC through FTP or in batches several times a week. This strategy is not sufficient for the real-time monitoring and remediation required to stop the exfiltration of mainframe data once a breach is discovered.
Application Audit™ with zDefender™ offers IT security administrators, even those without mainframe experience, a superior approach to cross-platform security visibility and compliance by offering the complete picture of user activity in real time, including all successful logins, session keyboard commands and menu selections, specific data browsed, and more. The solution allows enterprise IT organizations the functionality to monitor mainframe session data by itself or in conjunction with their Security Information and Event Management (SIEM) systems through zDefender™ to more effectively:

Detect, investigate, and respond to inappropriate behavior by internal users with privileged access
Detect, investigate, and respond to hacked or illegally-purchased user accounts
Support criminal/legal investigations with complete and credible forensics
Fulfill compliance mandates regarding protection of sensitive data, such as FISMA, PCI DSS, HIPAA, GDPR, GLBA, SOX, IRS Pub. 1075, and others
"As large enterprises continue to leverage the unmatched power and performance economics of the mainframe, they need better, more modern ways of doing everything from advancing mainframe DevOps to protecting invaluable data from cybersecurity threats," said Compuware CEO Chris O'Malley. "Compuware is relentlessly and uniquely innovating to meet these evolving enterprise mainframe needs."
About CorreLog zDefender™ for z/OS
CorreLog's zDefender™ for z/OS is the leading mainframe event log management security product on the market for large enterprise environments in Government and public/private sectors. In real-time, zDefender™ delivers security event messages from z/OS to distributed Security Information & Event Management (SIEM) systems and IT Security Operations Centers (SOC), so that enterprise security admins can monitor privileged user activity from mainframe and distributed systems in the same dashboards. zDefender™ auto-formats event messages from RACF, CA-ACF2, CA-Top Secret, DB2, IMS, CICS, IND$FILE, TSO Logons, FTP, TCP/IP, and other facilities and in real time, then forwards the messages to a SIEM or IT SOC.
About Compuware
Compuware empowers the world's largest companies to excel in the digital economy by fully leveraging their high-value mainframe investments. We do this by delivering highly innovative solutions that uniquely enable IT professionals with mainstream skills to manage mainframe applications, data, and platform operations. Learn more at Compuware.com.
About CorreLog:
CorreLog, Inc., a privately held corporation, is an independent software vendor (ISV) that has produced software and framework components used successfully by hundreds of private and government organizations worldwide. Our core solutions provide visibility across both mainframe and distributed systems on user activity that is indicative of cyber threat. Since 2008, CorreLog, Inc. has been committed to delivering better decision-support solutions for InfoSec and security auditing professionals who need more advanced perimeter security and improved adherence to PCI DSS, HIPAA, SOX, IRS Pub. 1075, FISMA, GDPR, NERC and other industry standards for securing data. Our solutions are designed to be highly interoperable and complementary to clients' existing IT investments.
CorreLog zDefender™ holds certified integrations with IBM, HP, Intel (McAfee) Security, Micro Focus, (EMC) RSA Security Analytics, and field integrations with all other brand-name SIEMs. We consider our technology approach to be unique in both personnel and product and we believe our solutions pass the test of low total cost of ownership with high SIEM functionality.  For more information on CorreLog products, please visit http://www.CorreLog.com/.
###
Copyright © 2017, CorreLog, Inc. All rights reserved.
All trademarks and registered trademarks used herein are the properties of their respective owners.