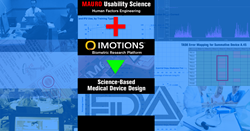 We're very excited about the new possibilities within usability research in the industry and creating solutions that match the needs and expectations of clients who not only want, but need to, take their usability insights to the next level
(PRWEB) May 31, 2017
Business problem
Consumer-mediated drug delivery is rapidly becoming a business-critical factor in determining drug profitability for all leading pharmaceutical entities. The usability of such devices will, in large measure, determine success in the marketplace as drug companies move to combination delivery systems, which combine drug delivery devices with proprietary or even generic drugs. So important is the usability of this new generation of drug delivery devices that the FDA as provided guidance that states that high levels of usability performance are essential to achieving both approval and acceptance in the marketplace.
In a world of increasing competition the design of drug delivery devices becomes a critical differentiating factor for patients and their prescribing physicians. These new combination products will drive success in the marketplace only if they are highly useable and engaging for patients, HCPs and Caregivers. The FDA and Usability Performance of Your Drug Delivery Devices  However, the design and testing of such devices that have scientifically documented levels of human factors engineering performance has proven unusually complex for most drug delivery device manufacturers and internal drug device development teams. In a recent interview Charles L. Mauro, CEO of Mauro Usability Science in New York said:
"It is now clear to those involved in these critical business problems that the design and development of consumer-facing drug delivery devices which actually deliver high levels of fully documented usability and simplicity across a wide range of patient categories requires new, science-based device design and testing methodologies. We believe that the world-class technology and data integration offered by iMotions will be an essential aspect of solving these complex new drug delivery problems. We look forward to our collaboration with iMotions."
The Science of Usability Made Simple 
The solution to this complex problem requires unprecedented levels of professional human factors engineering science and design development combined with state of the art human performance testing methodologies and proven data capture systems. "We're very excited about the new possibilities within usability research in the industry and creating solutions that match the needs and expectations of clients who not only want, but need to, take their usability insights to the next level" says Peter Hartzbech, CEO and Founder of iMotions.
It is now well understood that solving these types of complex usability and human factors engineering problems demands that usability optimization teams examine the relationship between device design and usability by capturing data across many relevant human performance dimensions. Such dimensions include the ability to design and execute studies which objectively combine data streams from physiological inputs including electromyography, galvanic skin response, Newtonian force measurement, and 3D spatial device tracking, all combined with relevant cognitive factors including the patient's emotional response to such devices, their overall and detailed cognitive workload, plus learning and skill acquisition profiles. These systems are only as good as the study design in which they reside. 
A powerful new combination
Acknowledging both the complexity and importance of these new business problems, we are hereby announcing the formal collaboration of iMotions, Inc. with Mauro Usability Science. iMotions is a current world leader in creating state of the art data capture technology, while Mauro Usability Science was founded in 1975 and is an acknowledged leader in the application of science-based human factors engineering methodologies to solve complex business problems, making the collaboration an ideal fit. 
This new collaboration focuses on design and optimization of drug delivery devices for world-class corporations and leading startups, which understand the critical role that usability performance will play in the success of their new drug offerings in an increasingly competitive global landscape.