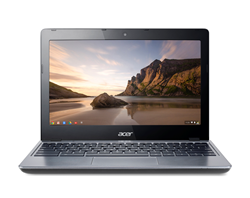 "We truly appreciate the partnership and support from Acer during this time of need for our school district and students," said Jamie Houser, principal, Seymour Community School District.
Seymour, Iowa (PRWEB) May 30, 2017
Acer America announced that it has donated 100 Acer C720 Chromebooks, valued at $25,000, to the Seymour Community School District to help students return to learning after the school district suffered severe tornado damage.
A tornado struck the Seymour School on March 6, causing permanent damage to the school's existing Acer Chromebooks. Acer donated 100 C720 Chromebooks to the Seymour Middle School since it sustained the most damage. The students are using them at the new temporary facility while repairs are being made to the school.
Seymour School students in grades 4 through 12 already use Acer Chromebooks, which store information in the Cloud. With the new donated Chromebooks, students will be able to quickly and easily access their existing projects, files and online textbooks. This will help learning continue since students will be able to review and work on previously-saved documents such as labs, notes, research, worksheets and group projects.
"We truly appreciate the partnership and support from Acer during this time of need for our school district and students," said Jamie Houser, principal, Seymour Community School District. "The Chromebook donation enabled our students to focus on learning and get back to their studies almost immediately after the school suffered significant damage."
"We're proud to make this donation of Cloud-based Chromebooks to help ensure that students can return to school and continue learning right where they left off before this unfortunate incident," said Gregg Prendergast, president, Acer America. "The school district has been a long-time Acer customer and has seen the impact Chromebooks make in the daily lives of students. We're glad we can help in this small way to ensure students' lives will return to normal."
Acer Chromebooks support multiple user sign-in so any student can access their projects from any Chromebook. When students return to school, they can simply log onto their unique accounts to access their school work, Gmail, and other information. Students can also access files offline, and even open and edit Microsoft® Office documents as well as Google Documents.
The donated Acer C720 Chromebooks are also easy to deploy and manage. School IT administrators will find it easy to make updates, configure apps, utilize extensions and policies and more with the web-based management.(1) Students will stay protected with the new Chromebooks since Chrome OS is automatically updated and guards against ever-changing online threats, such as viruses and malware.
About Acer
Founded in 1976, today Acer is one of the world's top ICT companies and has a presence in over 160 countries. As Acer looks into the future, it is focused on enabling a world where hardware, software and services will infuse with one another to open up new possibilities for consumers and businesses alike. From service-oriented technologies to the Internet of Things to gaming and virtual reality, Acer's 7,000+ employees are dedicated to the research, design, marketing, sale, and support of products and solutions that break barriers between people and technology. Please visit http://www.acer.com for more information.
© 2017 Acer Inc. All rights reserved. Acer and the Acer logo are registered trademarks of Acer Inc. Other trademarks, registered trademarks, and/or service marks, indicated or otherwise, are the property of their respective owners. All offers subject to change without notice or obligation and may not be available through all sales channels. Prices listed are manufacturer suggested retail prices and may vary by location. Applicable sales tax extra.
1) Google Console is sold separately, and/or may require a monthly activation fee.