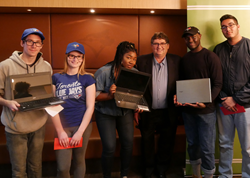 Philanthropic partners such as Acer help Jays Care level the playing field for all Canadian children and youth."
MISSISSAUGA, Ontario, Canada (PRWEB) May 31, 2017
Acer Canada, an Official Partner of the Toronto Blue Jays, presented 40 exceptional students participating in Pathways to Education with brand new Acer laptops to help propel their academic achievements. Since 2013, Jays Care Foundation has partnered with Pathways to Education to provide funding and opportunities for participants in this unique after school program.
On the evening of May 29, these outstanding students were honoured in the Jays Care Community Clubhouse at Rogers Centre and presented with Acer's Aspire E5-475-55P7 notebook. Valued at $649, this model features a high-definition 14-inch display, a fast Intel® Core™ i5-6200U 2.3GHz processor, 8GB of memory, 1TB hard drive and Windows 10 Home.
"We are pleased to provide these inspiring students with technology that supports their studies in and out of the classroom," said Terry Tomecek, General Manager, Acer Canada. "Technology not only makes learning richer and more engaging, but critically relevant by supporting real world scenarios and applications to prepare students for a secondary education and career."
"Jays Care has made a commitment to improving the academic performance of students across Canada," said Robert Witchel, Executive Director, Jays Care Foundation. "An integral aspect of educational success is access to technology. We are delighted that our partner, Acer, has taken a leadership role in supporting the educational aspirations of the wonderful and deserving participants in Pathways to Education. Philanthropic partners such as Acer help Jays Care level the playing field for all Canadian children and youth."
"In their fourth year as a partner of the Toronto Blue Jays, Acer has played an invaluable role in helping us benefit our local communities. We are delighted that Acer has committed to help students through their significant contributions to Jays Care Foundation and their partner, Pathways to Education," added Mark Ditmars, Vice President of Corporate Partnerships, Toronto Blue Jays.
Acer became an Official Partner of the Toronto Blue Jays in 2014. As exclusive category partner for laptops, Acer's presence is again highlighted by marketing programs and stadium signage.
About Acer
Founded in 1976, today Acer is one of the world's top ICT companies and has a presence in over 160 countries. As Acer looks into the future, it is focused on enabling a world where hardware, software and services will infuse with one another to open up new possibilities for consumers and businesses alike. From service-oriented technologies to the Internet of Things to gaming and virtual reality, Acer's 7,000+ employees are dedicated to the research, design, marketing, sale, and support of products and solutions that break barriers between people and technology. Please visit http://www.acer.com for more information.
Media Contacts
Acer America Corp.
Erin Davern Tel: +949-471-7785 Email: erin.davern@acer.com
© 2017 Acer America Corp. All rights reserved. Acer and the Acer logo are registered trademarks of Acer Inc. Other trademarks, registered trademarks, and/or service marks, indicated or otherwise, are the property of their respective owners. All offers subject to change without notice or obligation and may not be available through all sales channels. Prices listed are manufacturer suggested retail prices and may vary by location. Applicable sales tax extra.