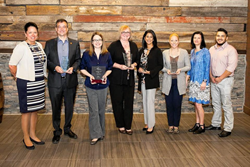 We take pride in providing opportunity both within Kahiki as well as in our community.
Columbus, Ohio (PRWEB) May 31, 2017
Kahiki Foods is a winner! And one of the proud recipients of The Gahanna Chamber of Commerce's Excellence in Business Awards for 2017. Kahiki was evaluated in the 50-250 employee category on measures such as:

Outstanding performance
Innovation
Lasting impact on the Gahanna community
Exhibiting overall excellence in the marketplace
Gahanna Chamber President Leslee Blake quoted in the Rocky Fork Enterprise said, "… our Excellence in Business winners have continued to act as examples of the resilience, ingenuity and opportunity at work in the free enterprise system … And by taking risks, watching out for their employees, and giving back to their community, they've shown that success is achievable."
"This award means a lot to our Kahiki team. We all appreciate that our hard work is gaining momentum and being recognized within the community. The Gahanna Chamber of Commerce partnership and our expansion with other local partnerships has brought us a great success in 2017. We take pride in providing opportunity both within Kahiki as well as in our community. We are driving hard to add a few more awards to that list this year," said The Big Kahuna and CEO, Martin Kelly.
Great timing for this award - as Kahiki expands their fast growing presence in Columbus. Go find those mouth-watering Kahiki foods at the "Big Orange Box" at MAPFRE® Stadium. OR hurry out to Huntington Park! You can order General Tso's or Sweet and Sour Chicken and some crispy Yum Yum Stix. No game on? No worries. Crunchy, saucy Kahiki snacks, sides, and dinners are waiting for you in Walmart, Giant Eagle, Meijer, Sam's Club and Kroger stores. Freezer to oven to belly. Now.
About Kahiki Foods, Inc.
What's not to LOVE about bold Asian flavors that stir your senses? Making your meals a delicious adventure drives us to do what we've been doing now for over 55 years. And we have a blast doing it. Even our name is fun… just try to say Kahiki [kah-hee-kee] without smiling. Join the action at kahiki.com!
Want to know more? Drop a line to Kahiki's Master of Magical Moments, Scott Corey, at scott.corey(at)kahiki.com.