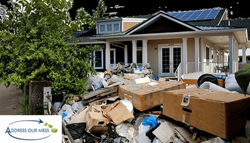 "Getting level 5 hoarding situations cleaned up is the only way to prevent possible accidents and injury."
Philadelphia, PA (PRWEB) May 31, 2017
Address Our Mess is cleaning up extreme hoarding situations in Philadelphia.
When psychologists diagnose hoarding, they usually determine where a hoarder falls on a scale from 1 through 5. Hoarding begins at level two where common obstacles may include pests, odors, and blockages, but it gets life threatening at level 5. In level 5 hoarding situations, there can be a number of problems with the home, ranging from completely blocked off rooms to biohazards.
The Institute for Challenging Disorganization describes level 5 homes as "requiring intervention from a wide range of professionals." These kinds of hoarding situations often have fire hazards, health hazards, sanitation issues, and more. It's extremely dangerous for anyone to enter these homes, let alone live in them, because of the potential for trip-and-fall injuries and injuries from falling piles of clutter.
These kinds of situations need immediate attention because the longer a person lives in a hoarded home, the more likely they will be injured. If an accident happens in a severely hoarded home, it's extremely difficult for emergency response professionals to access the home and help. Simple accidents can end up in severe injury or fatality as a result.
It's unsafe for anyone to live with level 5 hoarding conditions and getting these homes cleaned up is the only way to prevent possible accidents and injury. Address Our Mess is here to help occupants in Philadelphia in this situation.
Address Our Mess's teams understand that homeowners in these situations often have trouble letting go of belongings, so they set out with the primary goal of working with them to make them feel comfortable. Together they decide what should be kept, donated, and thrown away. Technicians haul away all trash, handle storage transportation, and take all donations to a charity of the customer's choice and in the customer's name, so no heavy lifting is required. Technicians also perform a deep cleaning that takes care of gross filth on floors, walls, and surface areas.
Address Our Mess is making sure no homeowner has to live under level 5 hoarding conditions. Philadelphia cleanup teams are helping prevent accidents and giving residents their homes and safety back.
About Address Our Mess
Address Our Mess is a professional specialty cleaning company that handles hoarding, clutter, sorting, removal, and large organizational projects. The company has a mission to help give a fresh start to as many people as possible.