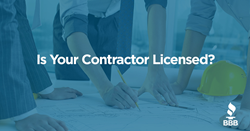 Choosing the right professional, a licensed professional, is one of the most essential aspects when deciding which business you choose
Florida (PRWEB) May 31, 2017
Licensed and Insured! That's what it said in his advertisement. We hear about this all too often; contractors claiming to be licensed, but can they perform the scope of work you are requesting for your home renovation project? Hiring an unqualified, unlicensed contractor can lead to headaches and lost money. This is why BBB and Florida Department of Business and Professional Regulation have remained partnered to help Floridians avoid falling victim to unlicensed contractors.
It is important that consumers thoroughly research professionals and businesses prior to hiring and to report any suspected unlicensed activity. Unlicensed activity is against the law. BBB and DBPR take unlicensed activity very seriously because it threatens the safety of Florida consumers and takes away business from properly licensed professionals throughout the state.
Together, BBB and DBPR have the tools to help consumers find licensed professionals they can trust. Remember to look for the BBB Accredited Business Seal when choosing a contractor to know they are properly licensed and have been vetted against BBB's Standards for Trust including a commitment to be responsive, advertise honestly and honor their promises. Always verify a contractor's license by visiting http://www.myfloridalicense.com, calling (850) 487-1395 or by downloading the free DBPR Mobile app.
Your BBB provides information on how to find properly licensed professionals, including an easy to use checklist. Resources to help businesses build trust in the marketplace are also available at your local BBB office. Please visit: https://www.bbb.org/florida-licensing-resource-page/ and click on the respective Better Business Bureau serving your area for more information.
About BBB
For more than 100 years, Better Business Bureau has been helping people find businesses, brands and charities they can trust. In 2016, people turned to BBB more than 167 million times for BBB Business Profiles on more than 5.2 million businesses and Charity Reports on 11,000 charities, all available for free at bbb.org. Five BBB offices service the State of Florida, with primary locations in Clearwater, Jacksonville, Longwood, Pensacola and West Palm Beach.
About DBPR
The Department of Business and Professional Regulation's mission is to license efficiently and regulate fairly. DBPR licenses and regulates more than one million businesses and professionals ranging from hotels and restaurants, real estate agents and accountants to veterinarians, contractors and cosmetologists. More information about DBPR is available online at http://www.myfloridalicense.com. Also, follow @FloridaDBPR on Twitter or Florida Department of Business and Professional Regulation on Facebook for updates about license cycles, events and other important news.