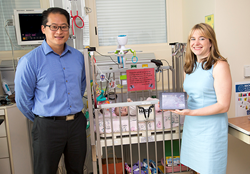 I'm delighted that we are able to provide this program to our patient families in the NICU.
Sacramento, CA (PRWEB) May 30, 2017
One of the challenges for families with a baby in the neonatal intensive care unit (NICU) is that hospitalizations can be very long and many families are unable to be at the bedside as much as they would like as they return to work and care for other children. UC Davis neonatologist Kristin Hoffman and IT technical supervisor George Wu have developed a program for parents to view their infants remotely when they were unable to be in the NICU.
UC Davis Children's Hospital serves a 33-county area in Northern California, and families often travel long distances to visit their babies in the NICU. In 2014, the Children's Miracle Network at UC Davis awarded a grant to Hoffman and Aaron Bair, now-retired UC Davis Center for Health and Technology (CHT) medical director, to develop this program. The grant included funding to develop training for residents, fellows, nursing staff and respiratory therapists and a series of videos for infants with special needs such as gastrostomy feeding tubes, cleft palate, ileostomies and tracheostomies.
Hoffman and Wu evaluated commercially available products that would allow families to view their infant from remote locations, but these were prohibitively expensive, required high bandwidth and technical support, and did not satisfy the unique needs of the NICU. The CHT team developed its own telemedicine solution, using webcams and flexible tripods to mount on infant isolettes, warmers or cribs.
Families may now see their infants 24 hours a day through a secure connection from a home computer or tablet. Use of the "virtual visit" has expanded to 31 of the 49 beds in the NICU, and the team is looking to expand the program to include audio. NICU nurses, child-life and social-work teams coordinate patient family enrollment in the program.
"I'm delighted that we are able to provide this program to our patient families in the NICU," Hoffman said. "I've received some very positive feedback from families who see this as a lifeline that helps them stay connected to their babies despite their distance."
UC Davis Children's Hospital is the Sacramento region's only nationally ranked, comprehensive hospital providing care for infants, children, adolescents and young adults with primary, subspecialty and critical care. It includes the Central Valley's only pediatric emergency department and level I pediatric trauma center, which offers the highest level of care for its critically ill patients, as well as the West Coast's only level I children's surgery center. The 129-bed children's hospital includes the state-of-the-art 49-bed neonatal and 24-bed pediatric intensive care and pediatric cardiac intensive care units. For more information, visit children.ucdavis.edu.