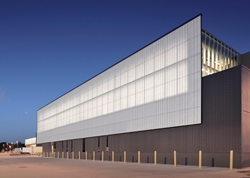 The Dollar General project received a PCI Design Award for Best Warehouse/Storage/Distribution Center Facility. The award is presented by the Precast/Prestressed Concrete Institute (PCI).
Lancaster, PA (PRWEB) September 14, 2017
Executives at Dollar General wanted their new Distribution Center's Employee Hub in Bessemer, AL to do more than simply provide storage and organize shipments. While business was booming, employee retention was dropping. To counter this unwelcome trend, the company's design brief for the new building emphasized employee safety, wellness and comfort. To help carry out their vision, project designers used architectural precast concrete panels and incorporated a unique pattern to represent what the employees do.
Metromont Corporation was the precast partner for this project. Metromont is in Hiram, GA and is a producer member of the Mid-Atlantic Precast Association (MAPA).
PROJECT OVERVIEW
Leo A. Daly served as the architect for the Dollar General project. Spokesperson Bill Baxley explained, "We looked beyond basic white to find a way to brand the facility. Precast concrete helped us do that. The panels were designed to be load-bearing walls that resist in-plane wind and seismic loads while providing a distinctive look."
Adjacent to the 969,000-square foot warehouse, the Employee Hub includes locker rooms, restrooms, a large vending area, 20 glass-fronted commercial-grade refrigerators, a 600-person cafeteria/break room and an elevated sky bridge. The break room was oriented to take advantage of southern light through its diffused wall, while its glazed ends provide perspective on the docking operations.
PRECAST VALUE
Project materials were chosen to emphasize a connection to trucks and transportation, and that included the precast concrete panels. Metromont created a custom formliner replicating an enlarged tire-tread pattern that could be embedded into each precast panel. The formliner created a distinctive appearance and was reusable, helping to reduce costs.
"The formliner allowed endless design possibilities that weren't possible with other construction methodologies," Baxley shared. The treads cover the entire façade of the employee hub, creating differentiation and ownership of this portion of the building while reinforcing a symbolic authority of the architecture.
Linking the pattern in each panel created a challenge, Baxley noted. But, the panels were erected seamlessly thanks to precise design and construction planning. "Every edge is crisp, and the quality is exceptional," he said. "Once you see it, you want to go up and run your fingers over it."
The panels also helped achieve sustainable design goals. They were produced in proximity to the project site and used recycled materials. "Precast concrete panels are high performance, cost effective, and allow fast erection times," he says. "The fact that we could create that stunning tire-tread pattern was just the icing on the cake."
The Dollar General project received a PCI Design Award for Best Warehouse/Storage/Distribution Center Facility. The award is presented by the Precast/Prestressed Concrete Institute (PCI).
For a project photo gallery, visit the Dollar General Employee Hub Project Profile on the MAPA website.
PROJECT AT-A-GLANCE
Location: Bessemer, AL
Precaster Metromont Corporation (Hiram, GA)
Owner: Dollar General (Goodlettsville, TN)
Architect: Leo A. Daly (Minneapolis, MN)
Engineer: Leo A. Daly (Minneapolis, MN)
Contractor: Clayco Construction (St. Louis, MO)
Precast Specialty Engineer: Architectural Polymers (Palmerton, PA)
Square Footage: Employee hub on a 969,900-square foot distribution center clad with 450 load-bearing architectural precast panels. Typical panels were 13'-6" wide by 47' tall
ABOUT MID-ATLANTIC PRECAST ASSOCIATION
The Mid-Atlantic Precast Association (MAPA) is a professional marketing organization committed to the growth and greater profitability of the Precast Industry in the Mid-Atlantic region. Founded in 1978, MAPA is comprised of 13 prestressed/precast producer member firms located throughout the Mid-Atlantic States, including New York, New Jersey, Pennsylvania, Delaware, Maryland, Virginia, West Virginia and Washington, D.C. The organization is closely associated with the Precast/Prestressed Concrete Institute (PCI) and has over 50 associate member companies that produce a variety of concrete industry related products. For more information, visit http://www.mapaprecast.org.