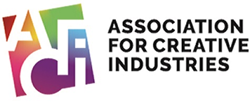 Elmwood Park, NJ (PRWEB) May 31, 2017
The Association For Creative Industries' (AFCI) is pleased to announce a promotion and a new addition to its staff based in its headquarters location in Elmwood Park, New Jersey.
Alison Muldoon was promoted to Assistant Manager of Accounting effective April 7. Alison recently celebrated her two year anniversary with AFCI, leading a variety of daily and monthly activities and reporting for both the membership and accounting departments. In her new role, Alison will be responsible for more accounting and operations tasks, continuing to work with membership and other teams at the Association.
Raquel-Alexa Brizzi joined AFCI in the new position of Coordinator of Events and Education on April 17. Raquel will be responsible for day-to-day tasks relating to AFCI's education programs, Mixed Media Event, and Creativation. For the past eight years, she has worked for the New York Football Giants as a Game Day Communications Assistant, including NFL Draft and Training Camp activities. She also has four years of event experience, from small meetings and conferences to outdoor events and largescale expos. Raquel holds a Bachelor of Arts in Communications and Media Studies from Penn State University.
The Association expects to hire a Membership Coordinator before the beginning of summer who will perform onboarding and administrative support for AFCI's global membership. AFCI is also recruiting an Inside Sales Account Manager to lead new business development for exhibits and sponsorships for Creativation.
For more information about the entire AFCI team, visit http://www.afci.global.
ABOUT THE ASSOCIATION FOR CREATIVE INDUSTRIES
The Association For Creative Industries (AFCI) is the premier trade association for the global creative arts products industries. AFCI strives to deliver innovative high value services as we support our Members who provide products and services to educate, entertain, and inspire creative consumers. Our Members include the manufacturers, retailers, distributors, designers, educators, digital content providers, professional makers and DIYers, and other creative professionals that comprise the $40 billion+ creative arts industries around the globe. For more information about AFCI, membership, or its annual Creativation trade event, visit http://www.afci.global.