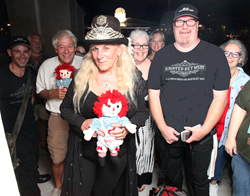 After all, how many festivals are there in which leading, world-class authors are hanging out, having fun and rubbing elbows with the audience members every day?
Key West, Florida (PRWEB) May 31, 2017
The 4th annual Mystery Fest Key West launches Friday, June 16, 2017 at the DoubleTree by Hilton Grand Key Resort, 3990 S. Roosevelt Blvd., in Key West, Florida.
The "Murder & Mayhem in Paradise" themed weekend of total mystery immersion - open to published authors, aspiring authors and non-writing book lovers alike - includes panels, presentations, workshops and social events with a "killer" hit-list of some of America's top award-winning and bestselling mystery writers and true crime experts.
Headlining the 2017 author-roster are John Hemingway, grandson of Ernest and author of 'Strange Tribe,' Keynote Speaker Clifford Irving, and Mystery Writers of America Florida Chapter past-President Randy Rawls.
Events kick off on Friday afternoon with four back-to-back workshops: "How Law Enforcement Deals with Explosive Situations," presented by Lt. Mike DiGiovanni, Monroe County Sheriff's Office, with "Johnny 5" the MCSO Bomb Squad robot; "Police Myths," presented by award-winning author and former undercover agent James O. Born; "Blood Spatter Forensics," presented by forensic scientist and New York Times bestselling author Lisa Black; and "How to Write a Cozy," presented by award-winning author Nancy J. Cohen.
With the evening comes a welcome celebration and dinner on the grounds of the famous Hemingway Home and Museum, presided over by Fest co-founder and producer Shirrel Rhoades, a publisher who has held executive positions with Reader's Digest, Scholastic, Harper's, Marvel Entertainment and other well-known publishing companies, and special guest speaker John Hemingway. Wrapping up the evening, New York Times and USA Today bestselling author Heather Graham will co-host a Sloan's Haunted Key West tour through the island's "Old Town" area.
Saturday's series of panels and presentations is populated with leading authors representing a variety of mystery genres including (but not limited to), action/adventure, "cozy" mysteries, forensic, supernatural, noir and police procedural. They include, "Where I Get My Ideas," with John H. Cunningham, David Beckwith, Charles Todd and Paul Sinor, moderated by Randy Rawls; "How to Commit a Perfect Murder," with Lisa Black, Rick Ollerman, Robert Coburn and Siera London, moderated by Heather Graham; "It Takes a Crook," with Mike Dennis, Bill Craig, Ken Rijock and Reef Perkins, moderated by Rick Ollerman; and "Cozy Mysteries and Female Sleuths," with Susan Haskell and Norah-Jean Perkin, Marjory Sorrell Rockwell, Renee Kumor and Meg Muldoon.
For Saturday's final panel, moderated by James O. Born, notable Florida Keys true-crime experts Carol F. Frederick, FDLE; Jim Linder, JIATF; Lt. Michael DiGiovanni, MCSO, and Sheriff Rick Ramsay, MCSO, will share insights on the Keys criminal element and details of the strange crimes that surround them.
Saturday highlights include luncheon with keynote speaker Clifford Irving, presentation of the Whodunit Mystery Writing Award, an author's book-signing hour and a "mysterious" special event at the Custom House Museum.
Sunday is for chilling along the waterfront with the Fest's finale Bloody Mary Sunday Morning Buffet Breakfast at the island's iconic Schooner Wharf Bar.
"It's not just writers and fans of mystery fiction and true-crime that come to the Fest," said Rhoades. "Because of the caliber of our guest authors, the fascinating panels and unique social events, the Mystery Fest was quickly infiltrated by enthusiasts of many genres. After all, how many festivals are there in which leading, world-class authors are hanging out, having fun and rubbing elbows with the audience members every day?"
2017 attendee's will also have an opportunity to meet with and pitch their own book ideas to several on-sight literary agents—Dianna Collier, owner/agent Collier & Associates, Tom Colgan of the Berkley Publishing Group, Jessica Faust of Bookends Literary Agency, and Scott Miller of Trident Media Group.
The 2017 Mystery Fest Key West is sponsored by the Monroe County Tourist Development Council, the Key West Citizen daily newspaper, Mystery Writers of America – Florida Chapter, the Florida Keys Council of the Arts, and is supported by the Marion Stevens Fund at the Community Foundation of the Florida Keys and the Helmerich Trust.
Fest registration is $195 and includes all panels, presentations, social events and four meals. For registration and information visit mysteryfestkeywest.com. (High resolution photo available here.)