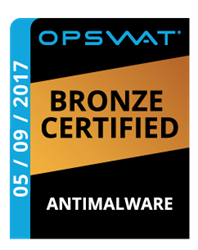 OPSWAT's Certified Security Application Program recognizes the highest-quality security applications on the market. We're proud to award Bronze certification to Clearsight for anti-malware.
San Francisco, CA (PRWEB) May 31, 2017
The OPSWAT Certified Security Application Program has awarded Bronze certification to Clearsight for Anti-Malware. Originally launched in 2007, OPSWAT's certification program currently supports over 1,000 applications from various anti-malware engines to ensure their compatibility with all leading access control solutions, their detection quality, and their false positive responsiveness.
Clearsight Antivirus is a Bulgarian company that was founded in 2010. The company develops anti-malware solutions to protect both consumers and enterprises. OPSWAT awarded certification to Clearsight after determining that Clearsight Antivirus met a number of strict criteria. OPSWAT will list Clearsight as a Bronze Certified security application on OPSWAT.com.
OPSWAT developed the Certified Security Application Program in 2007 after compiling compatibility requirements from over 50 OPSWAT OEM customers, including industry-leading NAC, CASB, SSO, and SSL-VPN solutions from vendors such as Citrix, Pulse Secure, Cisco, IBM, and Dell. The certification program helps IT administrators find compatible and effective applications for their security stack. The program also helps endpoint security applications vendors who want to certify regularly.
Cristina Stet, Certification Manager at OPSWAT, said, "OPSWAT's Certified Security Application Program recognizes the highest-quality security applications on the market. We're proud to award Bronze certification to Clearsight for anti-malware."
Dimitry Chendev, Chief Technology Officer at Clearsight Technologies, commented, "We have been working towards gaining OPSWAT certification and approval from one of the best anti-malware certification programs out there. I am delighted that Clearsight achieved certification of our product and put the OPSWAT seal of approval on our solution.
"Our ethos is 'keep things simple' while providing business-class antivirus solutions to protect companies worldwide. Our products are uncomplicated, easy to navigate, and feature-packed. Most users want software security products that keep their computer safe and don't require their attention until it is needed. With OPSWAT certification, we show the world our product does what we say it does."
OPSWAT and Clearsight recommend that all security application vendors learn more about the OPSWAT certification program and certify their latest versions before public release. Additionally, IT administrators can use OPSWAT's list of certified security applications as a resource before purchasing a security solution.
About Clearsight
Clearsight Antivirus was founded in 2010 and is Bulgaria's only homegrown antivirus software company. The company was started by a group of highly experienced individuals from the United Kingdom and Russia with the idea to provide uncomplicated reliable products. The company develops and provides anti-malware solutions to protect consumer and business customers, utilizing and combining best-of-breed technologies to create a simple to use reliable anti-malware solution for all. For more information, visit http://www.csantivirus.com.
About OPSWAT
OPSWAT is a global cyber security company providing solutions for enterprises since 2002 to identify, detect, and remediate advanced security threats from data and devices coming into and out of their networks. Trusted by over 1,000 organizations worldwide for this secure data flow, OPSWAT prevents advanced security threats across multiple channels of file transfer and data flow with flexible options of Metadefender® solutions and API-based development and threat intelligence platforms. With over 30 anti-malware engines, 100+ data sanitization engines, and more than 25 technology integration partners, OPSWAT is a pioneer and leader in data sanitization (Content Disarm and Reconstruction), vulnerability detection, multi-scanning, device compliance, and cloud access control. To learn more about OPSWAT, please visit http://www.OPSWAT.com.