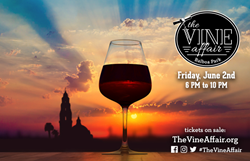 (PRWEB) May 31, 2017
WHAT: It's time to pop the cork. The Balboa Park Cultural Partnership's newest event, The Vine Affair, is a stylish celebration of wine, art, beer, artisan food and live entertainment to suit every palate.
WHEN: Friday, June 2, 2017 6:00 – 10:00 pm
WHERE: Attendees will progress to five of Balboa Park's museums while enjoying unique art installations and live art performances, live music, wine and wine education—each museum will have a unique theme. The San Diego Model Railroad Museum will swing into mid-century glamour with live jazz and retro-inspired flavors, the Fleet Science Center's British theme honors their current exhibit: Sherlock Holmes and the Clocktower Mystery, San Diego History Center celebrates San Diego's Jewish community, the San Diego Art Institute features an eclectic taste of food, wine and live entertainment, and The Balboa Park Conservancy, in conjunction with The Prado Restaurant, will honor Balboa Park's heritage with a Spanish themed tasting room.
COST: Tickets are on sale now at http://www.thevineaffair.org. Unlimited tasting—$65, VIP—$100, designated driver—$35.
For more information, visit our website http://www.thevineaffair.org, or follow us on Facebook https://www.facebook.com/TheVineAffair/, Twitter https://twitter.com/@The_Vine_Affair, & Instagram https://www.instagram.com/thevineaffair.
ABOUT BALBOA PARK CULTURAL PARTNERSHIP
Balboa Park Cultural Partnership is a nonprofit organization through which 30 arts, science and cultural institutions in Balboa Park collaborate to achieve shared goals. By helping these groups achieve greater organizational efficiency, innovation and excellence, it seeks to contribute to the vitality and sustainability of Balboa Park. For more information visit http://www.bpcp.org.