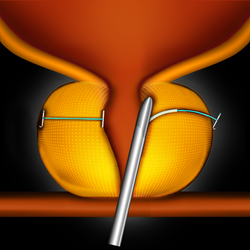 I am proud to share my experience with this proven, minimally invasive treatment option that typically allows patients to discontinue taking medications and does not interfere with sexual function.
Napa, CA (PRWEB) May 31, 2017
Napa Valley Urology Associates today announced that Herkanwal S. Khaira, M.D. has been designated a Premier Patient Experience trainer for the UroLift® System, a minimally invasive treatment for benign prostatic hyperplasia (BPH), also known as enlarged prostate.
Dr. Khaira is among only fourteen in-office training centers nationwide educating peers on the integration of the UroLift System Premier Patient Experience into clinical practice. Dr. Khaira is the only Premier Patient Experience Trainer in Northern California. This recognition reflects Dr. Khaira's high level of training and experience with the UroLift System and the exemplary care he provides to patients undergoing treatment for symptoms due to BPH. The first training was held April 29th at Napa Valley Urology Associates.
"The introduction of the UroLift System as a treatment option for men with enlarged prostate has fundamentally changed how I treat this condition. Patients finally have a safe and simple alternative to procedures that involve cutting, heating, or removal of prostate tissue," said Dr. Khaira. "I am proud to share my experience with this proven, minimally invasive treatment option that typically allows patients to discontinue taking medications and does not interfere with sexual function."
Five-year data from a randomized study shows the UroLift System offers not only rapid improvement, but also durable relief for patients with BPH. After five years, patients treated with the UroLift device continue to experience symptom relief with minimal side effects, with few patients requiring an additional procedure for relief. A second randomized clinical trial called BPH6 demonstrated that the minimally invasive UroLift device compares very well to the reference standard surgery, transurethral resection of the prostate (TURP), with regard to efficacy, and is superior to TURP at preserving sexual function and offering a more rapid recovery.
Nearly 40 million men in the United States are affected by BPH. Not to be confused with prostate cancer, BPH occurs when the prostate gland that surrounds the male urethra becomes enlarged with advancing age and begins to obstruct the urinary system. Symptoms of BPH often include sleepless nights and urinary problems, and can cause loss of productivity, depression and decreased quality of life.
Medication is often the first-line therapy for enlarged prostate, but relief can be inadequate and temporary. Side effects of medication treatment can include sexual dysfunction, dizziness and headaches, prompting many patients to quit using the drugs. For these patients, the classic alternative is surgery that cuts, heats or removes prostate tissue to open the blocked urethra. While current surgical options can be very effective in relieving symptoms, they can also leave patients with permanent side effects such as urinary incontinence, erectile dysfunction and retrograde ejaculation.
To schedule a consultation with Dr. Khaira, please call (707) 224-7944.
About the UroLift System
NeoTract's FDA-cleared UroLift System is a novel, minimally invasive technology for treating lower urinary tract symptoms due to benign prostatic hyperplasia (BPH). The UroLift permanent implants, delivered during a minimally invasive transurethral outpatient procedure, relieve prostate obstruction and open the urethra directly without cutting, heating, or removing prostate tissue. Clinical data from a pivotal 206-patient randomized controlled study showed that patients with enlarged prostate receiving UroLift implants reported rapid and durable symptomatic and urinary flow rate improvement without compromising sexual function. Patients also experienced a significant improvement in quality of life. Most common adverse events reported include hematuria, dysuria, micturition urgency, pelvic pain, and urge incontinence. Most symptoms were mild to moderate in severity and resolved within two to four weeks after the procedure. The UroLift System is available in the U.S., Europe, Australia, Canada, Mexico and South Korea. Learn more at http://www.UroLift.com.
About Napa Valley Urology Associates
Napa Valley Urology Associates provide state-of-the-art, compassionate medical and surgical care for patients with urologic issues and diseases. Their team of specialists deliver the highest quality, comprehensive urologic care with a resolute commitment to achieving the best outcomes.  They are committed to individualized care that offers dignity and respect with a genuine concern for comfort and privacy.
Their Urologists are leaders in specialized medical care & treatment of urologic issues and disease.
Media Contact:
Amy Cramer
650-391-3714
Amy(at)healthandcommerce.com