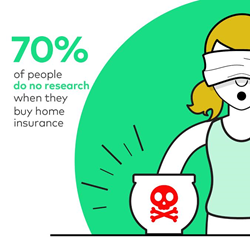 The implications of this study could not be more serious, says Jason White, Hippo's Head of Marketing and Product Innovation.
Mountain View, California (PRWEB) May 31, 2017
Today, Hippo Insurance, a venture-backed startup in the home insurance industry, published the results of a broad homeowner survey it conducted last month, around the time of its April 2017 launch. The results, published in an infographic here, show that the majority of homeowners are misguided about what protections are included in their homeowners insurance.
Among the many concerning findings of the Hippo study are that a staggering 73% of homeowners miscalculate how much coverage is required for their homes. Similarly, 70% of homeowners do no research before they buy their home insurance, and the majority of homes in the US are deemed to be under protected, meaning they may not be fully restored in the event of damage.
"The implications of this study could not be more serious" says Jason White, the company's Head of Marketing and Product Innovation. "Homeowners believe their homes are protected against a number of risks and perils that simply aren't covered in standard homeowners insurance policies. This is precisely why we reinvented home insurance."
Findings as amusing as they are concerning…
Fortunately, Hippo's study provides an opportunity for comic relief and not just concern. In what the company interprets as a statement about customer service levels among insurance companies, over half of the survey respondents indicated they would rather go to the dentist than deal with their insurance company. Approximately 16% indicated they would rather give up Facebook for a week, 9% would give up coffee for a year, and 5% indicated they would give up their first-born child.
"The reality is that home insurance hasn't kept up with the times" says Assaf Wand, the company's CEO and Co-Founder. "Hippo recognized that consumers are being under-serviced by today's home insurance companies and we're determined to protect their homes by innovating on this most important of products."
For complete results of the Home Insurance study, Hippo has released its infographic here.
About Hippo
Hippo Insurance is based in Mountain View California. The company launched April 2017, after raising $14M to reinvent home insurance. Among its many innovations, Hippo allows homeowners to quote and purchase home insurance in approximately 60 seconds online, save up to 25% compared to industry prices, and obtain coverage that is much more updated for modern homeowners. This includes protection for modern day possessions like consumer electronics, home offices, and appliances. The company was founded in 2015 by Assaf Wand and Eyal Navon.