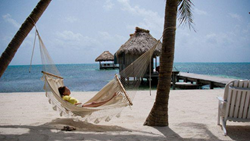 It's a rare opportunity to honeymoon at two of Belize's most highly regarded resorts in two of the country's most stunning locations
San Ignacio, Belize (PRWEB) June 06, 2017
The Lodge at Chaa Creek has announced a new Belize luxury honeymoon vacation package designed to help couples celebrate their lives together with a truly memorable experience, according to the popular Belizean eco-resort's wedding and romantic adventures planner.
Denise Duran said the "All You Need Is Love" all-inclusive Belize vacation package is a weeklong romantic adventure that takes couples from an idyllic rainforest setting to a Caribbean island in the shelter of Belize's Great Barrier Reef.
" 'All You Need Is Love' is an accurate description, since once couples are booked, we take care of everything. Accommodation at both The Lodge at Chaa Creek and the Mata Chica seaside Resort and Spa on Ambergris Caye, with all transfers, meals, activities and everything else needed for a picture-perfect honeymoon are included for one set price.
"And due to the long-standing relationship between both resorts and our extensive infrastructures, the luxury is surprisingly affordable. In fact, when you consider everything that's included and the quality of the amenities and service, it's really quite remarkable," Ms Duran said.
All You Need Is Love, offered only for the month of July 2017, allows honeymooners to divide their weeklong honeymoon between Chaa Creek, located in the midst of a private 400-acre nature reserve on the banks of the Macal River in western Belize, and Mata Chica Resort and Spa on Belize's Caribbean island of Ambergris Caye.
At Chaa Creek, couples stay in eco-lux rainforest accommodations and enjoy breakfast, lunch and dinner at the resort's Mariposa restaurant. Excursions to ancient Maya archaeology sites including the ceremonial caves at Barton Creek, the picturesque temple of Xunantunich and the ancient Maya metropolis of Tikal in neighbouring Guatemala combine with guided tours of the onsite Natural History Museum, Butterfly Farm and nature trails to give guests a well rounded jungle and cultural experience, Ms Duran said. Swimming in the serviced infinity pool, canoeing along the Macal River and nature walks are all included, and options such as horseback riding and spa treatments are available, she said.
The honeymoon package includes a short local return flight to Ambergris Caye where couples stay in a "Sea Breeze Suite" at Mata Chica Resort and Spa, known for offering seaside elegance on a private white sand beach five miles north of San Pedro town. A full meal plan, complimentary round-trip water taxi rides for sightseeing at San Pedro, snorkelling excursions to Hol Chan marine reserve and Shark Ray Alley, a one hour aromatherapy massage at the Jade Spa, and use of sea kayaks and snorkelling gear are all included in the Mata Chica portion of the package.
"From the moment we pick couples up at Belize's international airport, where they can enjoy a stop at the Belize Zoo on the ride in to Chaa Creek, until they are dropped back off, they are completely looked after by our own romantic adventures specialists and our colleagues at Mata Chica, providing a seamless, carefree honeymoon with the personal attention we've become known for," Ms Duran explained.
All You Need Is Love is a limited-time offer available during July 2017 only, and Ms Duran encouraged couples to book early to ensure they are not disappointed.
"It's a rare opportunity to honeymoon at two of Belize's most highly regarded resorts in two of the country's most stunning locations. And with all transfers and services coordinated in one all-inclusive Belize vacation package, couples can leave the details to us and just concentrate on enjoying each other.
"And we hope they'll also sleep easier knowing both resorts share a commitment towards sustainable tourism, and that ten per cent of all room revenue at Chaa Creek goes directly into environmental and social programs under our Chaa Creek Cares initiative.
Ms Duran emphasised that Chaa Creek has been organising destination weddings, honeymoons and romantic getaways for over thirty-five years.
"We're the only Belizean resort I know of that has a dedicated team of romance specialists who work with couples to ensure that they have experiences they'll remember forever. Chaa Creek has always been family owned and operated, and the Fleming family takes particular pride in the overwhelmingly positive feedback we receive from guests," Ms Duran said, and added that couples can contact their travel agents or Chaa Creek directly for more details or to make bookings.
The Lodge at Chaa Creek is a multi-award winning eco resort set within a 400-acre private nature reserve along the banks of the Macal River in Belize. It was recognised by National Geographic with first place honours at the 2017 World Legacy Awards held in Berlin.
ENDS