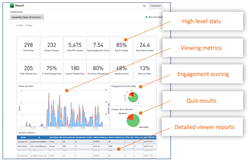 KnowledgeVision has pioneered the idea of tracking and analyzing viewer-level engagement with interactive online presentations and video.
Lincoln, Massachusetts (PRWEB) May 31, 2017
KnowledgeVision Systems, the smart media platform company, announced today the issuance by the U.S. Patent and Trademark Office of a patent on KnowledgeVision's system for tracking and analyzing how viewers interact with online interactive presentations, and transmitting that data to third-party applications such as marketing automation software.
U.S. Patent No. 9,633,358, "Interactive Presentations with Integrated Tracking Systems" discloses features that are at the heart of the Knovio smart media platform.
"KnowledgeVision has pioneered the idea of tracking and analyzing viewer-level engagement with interactive online presentations and video," said founder and CEO Michael Kolowich. "Even more importantly, we make that data useful by connecting it to third party systems like marketing automation, learning management systems, CRM platforms, and sales enablement platforms. We're proud that the U.S. Patent and Trademark Office has recognized these innovations to be both unique and ground-breaking."
KnowledgeVision's Knovio is a platform for creating, hosting, sharing, organizing, and tracking video and online interactive presentations, which is now used by over 230,000 users in more than 2,000 companies and learning institutions around the world. Knovio users create interactive multimedia presentations in minutes by uploading a presentation deck (such as PowerPoint or PDF), adding video or audio narration, and enhancing it with interactive features such as chapter navigation, dynamic footnotes, quizzes, calls-to-action, registration forms, and downloadable attachments. These presentations can then be shared through email, social media, websites, portals, and through CRM's, marketing automation, or learning management systems.
As presentations are viewed, Knovio captures clickstream and other information about how viewers engage with the media content. The creator of the Knovio media can then see precisely how individual viewers and groups of viewers are interacting with the content, can obtain an "engagement score" for each viewer, and can automatically trigger follow-up actions ("responsive events") through connected third-party systems.
KnowledgeVision's interactive tracking system has won an Edison Award, which honors excellence in new product and service development, human-centered design, and innovation.
"Interactive video and online presentation media represent fuel that will power a whole new generation of marketing, sales, and learning technologies," said Kolowich. "Knovio's viewer-by-viewer tracking technology, which connects the dots from views to insight to action, will make these technologies even more successful in the future. We're proud to have been out front in helping to create that future."
About KnowledgeVision
KnowledgeVision is the leader in smart media creation and hosting technology. Founded in 2010 by a team of online media pioneers led by ZDNet founder Michael Kolowich, KnowledgeVision is backed by a group of venture capital and large individual investors who believe in the company's vision to bring smart media hosting to every business, organization, and educational institution. KnowledgeVision markets Knovio directly to companies, colleges & universities, business professionals, educators, and students worldwide, and licenses its embedded online presentation and media platform technology to numerous third-party partners.